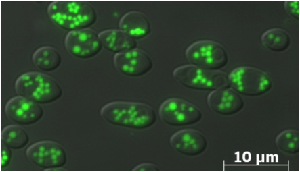 The genome sequence and gene predictions of Blastobotrys (Arxula) adeninivorans strain LS3 were obtained from Cécile Neuvéglise ([email protected]). The genome was originally sequenced by the Génolevures consortium, assembled into 4 chromosomes, annotated and published in Biotechnology for Biofuels (Kunze G., Gaillardin C., et al., 2014). It is maintained by the authors and regularly updated on the GRYC website (http://gryc.inra.fr).
Description
Blastobotrys (Arxula) adeninivorans is a Saccharomycotina yeast species representative of the large group of Blastobotrys/Trichomonoascus species. This species is able to assimilate a large variety of sugars and exhibits unusual biochemical activities, including the ability to assimilate a wide range of amines, adenine and several other purine compounds as a sole energy and carbon source. It is osmotolerant, xerotolerant and thermotolerant with a temperature dependent dimorphism. B. adeninivorans is a yeast of biotechnological interest, currently exploited as biocatalyst for the synthesis of various biotechnological products, for the production of food with low purine content, and for the detection of estrogenic activity in various aqueous media. It is also used as a host for the production of recombinant proteins, and as a donor for genes encoding valuable products.
Genome Reference(s)
Please cite the following publication(s) if you use the data from this genome in your research:
Kunze G, Gaillardin C, Czernicka M, Durrens P, Martin T, Böer E, Gabaldón T, Cruz JA, Talla E, Marck C, Goffeau A, Barbe V, Baret P, Baronian K, Beier S, Bleykasten C, Bode R, Casaregola S, Despons L, Fairhead C, Giersberg M, Gierski PP, Hähnel U, Hartmann A, Jankowska D, Jubin C, Jung P, Lafontaine I, Leh-Louis V, Lemaire M, Marcet-Houben M, Mascher M, Morel G, Richard GF, Riechen J, Sacerdot C, Sarkar A, Savel G, Schacherer J, Sherman DJ, Stein N, Straub ML, Thierry A, Trautwein-Schult A, Vacherie B, Westhof E, Worch S, Dujon B, Souciet JL, Wincker P, Scholz U, Neuvéglise C
The complete genome of Blastobotrys (Arxula) adeninivorans LS3 - a yeast of biotechnological interest.
Biotechnol Biofuels. 2014;7():66. doi: 10.1186/1754-6834-7-66