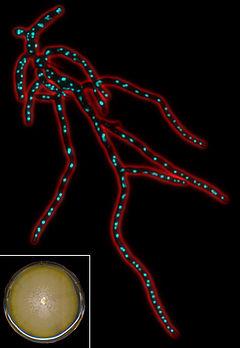 The genome sequence and gene predictions of Ashbya gossypii were not determined by the JGI, but were downloaded from NCBI and have been published (Dietrich FS at al., 2004).

The filamentous fungus Eremothecium gossypii, also known as Ashbya gossypii, was first described in 1929 as a cotton pathogen transmitted by sucking insects. In addition to cotton, it infects other agricultural crops such as citrus fruits. It is likely better known as an appealing model to study filamentous growth due to the following characteristics, being haploid with a small genome, efficient gene targeting, propagation of plasmids and growth on defined media. E. gossypii is used in industry for the production of riboflavin.
Genome Reference(s)
Please cite the following publication(s) if you use the data from this genome in your research:
Gattiker A, Rischatsch R, Demougin P, Voegeli S, Dietrich FS, Philippsen P, Primig M
Ashbya Genome Database 3.0: a cross-species genome and transcriptome browser for yeast biologists.
BMC Genomics. 2007 Jan 9;8():9. doi: 10.1186/1471-2164-8-9
Dietrich FS, Voegeli S, Brachat S, Lerch A, Gates K, Steiner S, Mohr C, Pöhlmann R, Luedi P, Choi S, Wing RA, Flavier A, Gaffney TD, Philippsen P
The Ashbya gossypii genome as a tool for mapping the ancient Saccharomyces cerevisiae genome.
Science. 2004 Apr 9;304(5668):304-7. doi: 10.1126/science.1095781