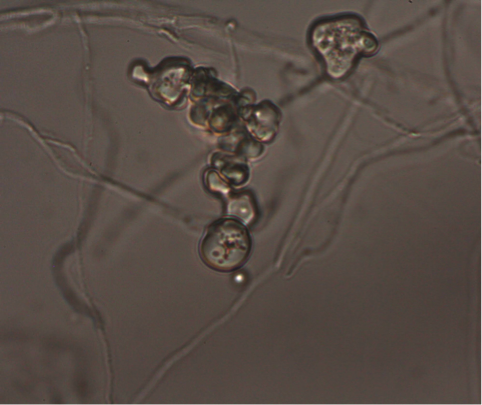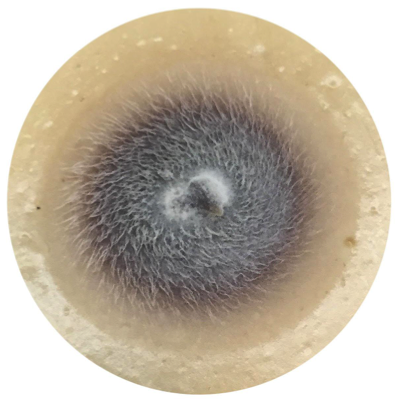 In the "1KFG: Deep Sequencing of Ecologically-relevant Dikarya" project (CSP1974), we aim to sequence additional sampling of genomic diversity within keystone lineages of plant-interacting fungi and saprophytic fungi that are of special ecological importance for understanding terrestrial ecosystems. In addition, comparative genome analysis with saprotrophic, mycorrhizal and pathogenic fungi will provide new insights into the specific and conserved adaptations associated with each fungal lifestyle.
Bisporella sp. PMI857 (1113391)
Bisporella is a widespread genus of ascomycete fungi in the order Helotiales that produces small yellow apothecia on wood substrates1. Most Bisporella species are believed to be saprobic, however many species in this group are also frequently isolated as plant endophytes. Bisporella sp. PMI857 was isolated as an endophytic fungus from living roots of Populus trichocarpa3. Bisporella has been found associated with decaying wood being promoted by beetles, like Agathidium nigripenne4, but it has also been isolated from plants like Myrtus and Pinus2,5. Isolate PMI857 is related to other Bisporella species, but additional taxonomic study is still needed to confirm these relations.
This work is supported by the Genomic Science Program (U.S. Department of Energy) Plant Microbe Interfaces (PMI) Scientific Focus Area (http://pmi.ornl.gov) and by the Joint Genome Institute (U.S. Department of Energy) through their Community Sequencing Program (CSP 1974, 1KFG: Deep Sequencing of Ecologically-relevant Dikarya, F. Martin PI).
Researchers who wish to publish analyses using data from unpublished 1KFG genomes are respectfully required to contact the PIs and JGI to avoid potential conflicts on data use and coordinate other publications with the 1KFG master paper(s).
References
Korf, RP and Carpenter SE 1974. Bisporella, a generic name for Helotium citrinum and its allies, and the generic names Calycella and Calycina. Mycotaxon 1 (1): 51-62.
Arnold, AE, Henk DA, Eells EL, Lutzoni F, and Vilgalys R. 2007. Diversity and phylogenetic affinities of foliar fungal endophytes in loblolly pine inferred by culturing and environmental PCR. Mycologia 99: 185–206.
Bonito G, Hameed K, Ventura R, Krishnan J, Schadt CW, Vilgalys R. 2016. Isolating a functionally relevant guild of fungi from the root microbiome of Populus. Fungal Ecology 22: 35–42.
Jacobsen, Rannveig Margrete, Tone Birkemoe, and Anne Sverdrup-Thygeson. 2015. Priority Effects of Early Successional Insects Influence Late Successional Fungi in Dead Wood. Ecology and Evolution 5 (21): 4896–4905.
Vaz, A. B. M., I. Sampedro, J. A. Siles, J. A. Vasquez, I. García-Romera, H. Vierheilig, C. A. Rosa, and J. A. Ocampo. 2012. Arbuscular Mycorrhizal Colonization of Sorghum Vulgare in Presence of Root Endophytic Fungi of Myrtus Communis. Applied Soil Ecology: A Section of Agriculture, Ecosystems & Environment 61 (October): 288–94.