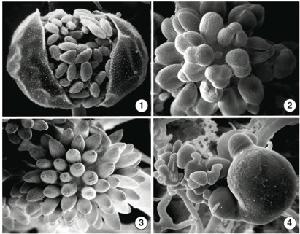 Blakeslea trispora Thaxt. (1914) is a zygomycete fungus classified in the family Choanephoraceae [Order Mucorales]. It is isolated from soils in subtropical and tropical regions of the world (e.g., southeastern United States, Southeast Asia, etc.) and is reported as a pathogen of multiple plants species. It produces two types of sporangia – a major form of asexual reproduction among zygomycetes – including large sporangia with many sporangiospores (Fig. 1) and sporangioles with only a few or one sporangiospore (Figs. 2-3). Sporangiospores are pigmented, striate and fusiform, typically with polar appendages. Sexual reproduction is by zygospores on apposed suspensors (Fig. 4). Like many zygomycete fungi, B. trispora produces carotenoids that are required for the maturation of gametangia involved in sexual reproduction. B. trispora is used in industrial production of beta carotene as a dietary supplement in food production. Sequencing of B. trispora will advance the 1000 Fungal Genome Project by providing a representative genome for Choanephoraceae, an important family of "zygomycetes" and additional insight into the evolution of carotenoid biosynthesis by early diverging fungi.
Genome Reference(s)
Please cite the following publication(s) if you use the data from this genome in your research:
Chang Y, Wang Y, Mondo S, Ahrendt S, Andreopoulos W, Barry K, Beard J, Benny GL, Blankenship S, Bonito G, Cuomo C, Desiro A, Gervers KA, Hundley H, Kuo A, LaButti K, Lang BF, Lipzen A, O'Donnell K, Pangilinan J, Reynolds N, Sandor L, Smith ME, Tsang A, Grigoriev IV, Stajich JE, Spatafora JW
Evolution of zygomycete secretomes and the origins of terrestrial fungal ecologies.
iScience. 2022 Aug 19;25(8):104840. doi: 10.1016/j.isci.2022.104840