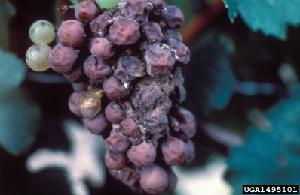 The genome of Botrytis cinerea was not sequenced by the JGI, but by the BROAD Institute. A copy of the genome is incorporated into MycoCosm, so it can be used in comparative studies. JGI eukaryotic tools were used to annotate the predicted genes.
Botrytis cinerea is a widespread phytopathogenic fungus that causes Gray-mold rot or Botrytis blight and affects most vegetable and fruit crops, as well as a large number of shrubs, trees, flowers, and weeds. It also has a beneficial role in the production of rare dessert wines, thus another name for Botrytis is "Noble Rot." This ascomycete's complex developmental lifecycle adds to the complexity in the classification and naming of this fungus.
More information can be found here:
http://www.broadinstitute.org/annotation/genome/botrytis_cinerea/Home.html
Genome Reference(s)
Please cite the following publication(s) if you use the data from this genome in your research:
Staats M, van Kan JA
Genome update of Botrytis cinerea strains B05.10 and T4.
Eukaryot Cell. 2012 Nov;11(11):1413-4. doi: 10.1128/EC.00164-12
Amselem J, Cuomo CA, van Kan JA, Viaud M, Benito EP, Couloux A, Coutinho PM, de Vries RP, Dyer PS, Fillinger S, Fournier E, Gout L, Hahn M, Kohn L, Lapalu N, Plummer KM, Pradier JM, Quévillon E, Sharon A, Simon A, ten Have A, Tudzynski B, Tudzynski P, Wincker P, Andrew M, Anthouard V, Beever RE, Beffa R, Benoit I, Bouzid O, Brault B, Chen Z, Choquer M, Collémare J, Cotton P, Danchin EG, Da Silva C, Gautier A, Giraud C, Giraud T, Gonzalez C, Grossetete S, Güldener U, Henrissat B, Howlett BJ, Kodira C, Kretschmer M, Lappartient A, Leroch M, Levis C, Mauceli E, Neuvéglise C, Oeser B, Pearson M, Poulain J, Poussereau N, Quesneville H, Rascle C, Schumacher J, Ségurens B, Sexton A, Silva E, Sirven C, Soanes DM, Talbot NJ, Templeton M, Yandava C, Yarden O, Zeng Q, Rollins JA, Lebrun MH, Dickman M
Genomic analysis of the necrotrophic fungal pathogens Sclerotinia sclerotiorum and Botrytis cinerea.
PLoS Genet. 2011 Aug;7(8):e1002230. doi: 10.1371/journal.pgen.1002230