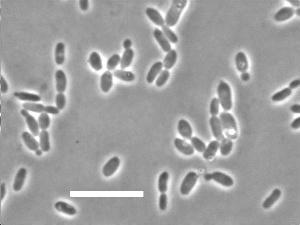 Tortispora caseinolytica is notable for its apparent taxonomic diversity when its gene sequences from the large-subunit rRNA, the mitochondrial small-subunit rRNA, and cytochrome oxidase II are compared to those of other yeasts (Kurtzman et al, 2007). It occurs in the rotting tissues of opuntias cactus in the Sonoran desert. It does not ferment any sugars and it assimilates only a limited number of carbon compounds, including 2- and 5-ketogluconic acids. It exhibits strong extracellular proteolytic activity on casein at pH 6.5, but gelatin is not hydrolyzed or is only weakly hydrolyzed by a few strains (Phaff et al. 1994). When cultivated on a medium containing casein, it secretes an active, broad-range protease (Poza et al, 2001).
Genome Reference(s)
Please cite the following publication(s) if you use the data from this genome in your research:
Riley R, Haridas S, Wolfe KH, Lopes MR, Hittinger CT, Göker M, Salamov AA, Wisecaver JH, Long TM, Calvey CH, Aerts AL, Barry KW, Choi C, Clum A, Coughlan AY, Deshpande S, Douglass AP, Hanson SJ, Klenk HP, LaButti KM, Lapidus A, Lindquist EA, Lipzen AM, Meier-Kolthoff JP, Ohm RA, Otillar RP, Pangilinan JL, Peng Y, Rokas A, Rosa CA, Scheuner C, Sibirny AA, Slot JC, Stielow JB, Sun H, Kurtzman CP, Blackwell M, Grigoriev IV, Jeffries TW
Comparative genomics of biotechnologically important yeasts.
Proc Natl Acad Sci U S A. 2016 Aug 30;113(35):9882-7. doi: 10.1073/pnas.1603941113