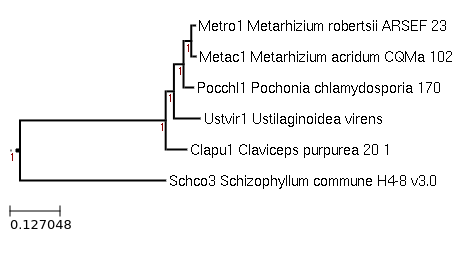 The genome sequence and gene models of Claviceps purpurea 20.1 were not determined by the Joint Genome Institute (JGI), but were downloaded from Ensembl Fungi on April 11, 2020. Please note that this copy of the genome is not maintained by Ensembl and is therefore not automatically updated. The JGI Annotation Pipeline was used to add additional functional annotation to the author's chromosomes and proteins.
Genome Reference(s)
Please cite the following publication(s) if you use the data from this genome in your research:
Schardl CL, Young CA, Hesse U, Amyotte SG, Andreeva K, Calie PJ, Fleetwood DJ, Haws DC, Moore N, Oeser B, Panaccione DG, Schweri KK, Voisey CR, Farman ML, Jaromczyk JW, Roe BA, O'Sullivan DM, Scott B, Tudzynski P, An Z, Arnaoudova EG, Bullock CT, Charlton ND, Chen L, Cox M, Dinkins RD, Florea S, Glenn AE, Gordon A, Güldener U, Harris DR, Hollin W, Jaromczyk J, Johnson RD, Khan AK, Leistner E, Leuchtmann A, Li C, Liu J, Liu J, Liu M, Mace W, Machado C, Nagabhyru P, Pan J, Schmid J, Sugawara K, Steiner U, Takach JE, Tanaka E, Webb JS, Wilson EV, Wiseman JL, Yoshida R, Zeng Z
Plant-symbiotic fungi as chemical engineers: multi-genome analysis of the clavicipitaceae reveals dynamics of alkaloid loci.
PLoS Genet. 2013;9(2):e1003323. doi: 10.1371/journal.pgen.1003323