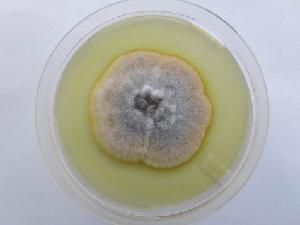 Clohesyomyces aquaticus is a saprobic fungus that was originally isolated from submerged wood in the Clohesy River (Queensland, Australia). On a PDA agar plates, it is slow growing (~9 cm/week), appears woolly and grey, with large numbers of conidiomata developing, particularly on the base and sides of the plate.

Clohesyomyces aquaticus is classified in the Dothideomycetes (Pleosporales, Lindgomycetaceae). Dothideomycetes is the largest and most diverse class of ascomycete fungi. It comprises 11 orders 90 families, 1300 genera and over 19,000 known species. This genome was sequenced as part of the 1000 Fungal Genomes Project.


References:
Hyde, K.D. 1993. Tropical Australian freshwater fungi VI. Tiarosporella paludosa and Clohesymomyces aquaticus gen. et sp. nov. (Coelomycetes). Australian Systematic Botany. 6:169-173
Zhang H., Hyde K. D., McKenzie E. H. C., A.H. B., Zhou D. Q. (2012) Sequence data reveals phylogenetic affinities of Acrocalymma aquatica sp. nov., Aquasubmersa mircensis gen. et sp. nov. and Clohesyomyces aquaticus (Freshwater Coelomycetes). Cryptogamie Mycologie 33: 333-346.
Genome Reference(s)
Please cite the following publication(s) if you use the data from this genome in your research:
Mondo SJ, Dannebaum RO, Kuo RC, Louie KB, Bewick AJ, LaButti K, Haridas S, Kuo A, Salamov A, Ahrendt SR, Lau R, Bowen BP, Lipzen A, Sullivan W, Andreopoulos BB, Clum A, Lindquist E, Daum C, Northen TR, Kunde-Ramamoorthy G, Schmitz RJ, Gryganskyi A, Culley D, Magnuson J, James TY, O'Malley MA, Stajich JE, Spatafora JW, Visel A, Grigoriev IV
Widespread adenine N6-methylation of active genes in fungi.
Nat Genet. 2017 Jun;49(6):964-968. doi: 10.1038/ng.3859