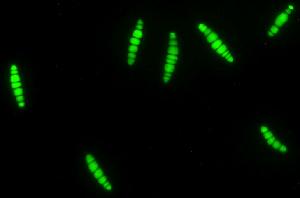 Cochliobolus sativus (anamorph: Bipolaris sorokiniana) is a filamentous fungus, which belongs to the family Pleosporaceae in the order Pleosporales of Ascomycetes. It can cause serious diseases on root (known as common root rot), leaf and stem (known as spot blotch), and head tissue (known as black point and glume blight) on a wide variety of cereals. The two most common and economically important diseases caused by C. sativus are spot blotch and common root rot, mainly on wheat and barley crops. C. sativus also attacks many grasses, including switch grass (Panicum virgatum L.) that is currently being developed as a source of biomass for biofuel and bioproduct production as well as Brachypodium distachyon that is being used as a new model system for functional genomics in grasses. Unlike other Cochliobolus pathogens, including C. victoriae (the oat Victoria blight pathogen), C. carbonum (the corn leaf spot pathogen), and C. heterostrophus (the southern corn leaf blight pathogen), which are necrotrophic and produce host-selective toxins (HSTs) as primary virulence/pathogenicity factors for disease development, C. sativus is heminecrotrophic with initial biotrophic stage during disease development and no HSTs have so far been identified from culture filtrates of the fungus. Having the genome sequences would lead us to understand why and how other Cochliobolus pathogens evolved host specificity and the ability to produce HSTs while C. sativus does not produce HSTs but is able to infect a number of cereals and grasses. The whole genome sequencing project will also facilitate our understanding of the mechanisms underlying pathogenicity/virulence on plant hosts and ultimately have impact on disease management in cereal crops as well as grasses related to renewable energy uses.
Genome Reference(s)
Please cite the following publication(s) if you use the data from this genome in your research:
Ohm RA, Feau N, Henrissat B, Schoch CL, Horwitz BA, Barry KW, Condon BJ, Copeland AC, Dhillon B, Glaser F, Hesse CN, Kosti I, LaButti K, Lindquist EA, Lucas S, Salamov AA, Bradshaw RE, Ciuffetti L, Hamelin RC, Kema GH, Lawrence C, Scott JA, Spatafora JW, Turgeon BG, de Wit PJ, Zhong S, Goodwin SB, Grigoriev IV
Diverse lifestyles and strategies of plant pathogenesis encoded in the genomes of eighteen Dothideomycetes fungi.
PLoS Pathog. 2012;8(12):e1003037. doi: 10.1371/journal.ppat.1003037
Condon BJ, Leng Y, Wu D, Bushley KE, Ohm RA, Otillar R, Martin J, Schackwitz W, Grimwood J, MohdZainudin N, Xue C, Wang R, Manning VA, Dhillon B, Tu ZJ, Steffenson BJ, Salamov A, Sun H, Lowry S, LaButti K, Han J, Copeland A, Lindquist E, Barry K, Schmutz J, Baker SE, Ciuffetti LM, Grigoriev IV, Zhong S, Turgeon BG
Comparative genome structure, secondary metabolite, and effector coding capacity across Cochliobolus pathogens.
PLoS Genet. 2013;9(1):e1003233. doi: 10.1371/journal.pgen.1003233