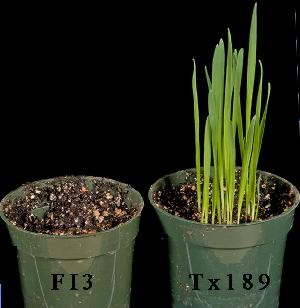 The filamentous ascomycete genus Cochliobolus (anamorph Bipolaris/Curvularia) is comprised of more than forty closely related species, some of which are highly aggressive, superpathogens with particular specificity to their host plants. All members of the genus known to cause serious crop diseases fall in a tight phylogenetic group suggesting that a progenitor within the genus gave rise, over a relatively short period of time to the series of distinct biotypes (1), each distinguished by unique pathogenic capability to individual types of cereal. Aggressive members include the necrotrophic corn pathogens Cochliobolus heterostrophus and Cochliobolus carbonum, the oat pathogen, Cochliobolus victoriae, the rice pathogen, Cochliobolus miyabeanus, the sorghum pathogen, Bipolaris sorghicola, the sugarcane pathogen, Bipolaris sacchari and the hemibiotrophic generalized cereal and grass pathogen, Cochliobolus sativus.
Many necrotrophic Cochliobolus spp. and related taxa (e.g., Pyrenophora tritici repentis, Stagonospora nodorum, Alternaria alternata) are notorious for their ability to evolve novel, highly virulent, races producing Host Selective Toxins (HSTs), and their concomitant capacity to cause diseases on cereal crops that were bred, inadvertently, for susceptibility to the HST-producing pathogen (2). C. victoriae (Bipolaris victoriae), causal agent of Victoria Blight, produces the chlorinated cyclic pentapeptide HST, victorin, rendering it highly virulent on oats carrying the dominant Vb allele (3). The fungus caused widespread destruction (20 states) in the 1940's of oat varieties containing the recently introduced Pc-2 gene for resistance to crown rust caused by Puccinia coronata (4). Like the C. heterostrophus T-toxin/Tcms case, the monoculture of Victoria oats carrying Pc-2 was the perfect milieu for attack by C. victoriae producing victorin, which elicits Pc-2-dependent Programmed Cell Death (PCD). Recent work on mutant Arabidopsis lines inoculated with C. victoriae, which normally does not cause disease on this plant, identified a line with a mutation in a protein that resembles a resistance (R) protein but renders the line susceptible (i.e., the line is no longer resistant) to C. victoriae and victorin (5). This work is seminal in demonstrating fungal HSTs can target a NB-LRR-type R protein to promote disease. These observations point toward victorin, subverting ETI (effector triggered immunity) to defenses against biotrophs, such as P. coronata, to promote susceptibility to a necrotroph.


Berbee ML, Pirseyedi M, Hubbard S (1999) Cochliobolus phylogenetics and the origin of known, highly virulent pathogens, inferred from ITS and glyceraldehyde-3-phosphate dehydrogenase gene sequences. Mycologia 91: 964-977.
Turgeon BG, Baker SE (2007) Genetic and genomic dissection of the Cochliobolus heterostrophus Tox1 locus controlling biosynthesis of the polyketide virulence factor T-toxin. Adv Genet 57: 219-261.
Litzenberger SC (1949) Nature of susceptibility to Helminthosporium victoriae and resistance to Puccinia coronata in Victoria oats. Phytopathology 39: 300-318.
Meehan F, Murphy HC (1947) Differential phytotoxicity of metabolic by-products of Helminthosporium victoriae. Science 106: 270-271.
Lorang JM, Sweat TA, Wolpert TJ (2007) Plant disease susceptibility conferred by a "resistance" gene. Proc Natl Acad Sci U S A 104: 14861-14866.
Genome Reference(s)
Please cite the following publication(s) if you use the data from this genome in your research:
Condon BJ, Leng Y, Wu D, Bushley KE, Ohm RA, Otillar R, Martin J, Schackwitz W, Grimwood J, MohdZainudin N, Xue C, Wang R, Manning VA, Dhillon B, Tu ZJ, Steffenson BJ, Salamov A, Sun H, Lowry S, LaButti K, Han J, Copeland A, Lindquist E, Barry K, Schmutz J, Baker SE, Ciuffetti LM, Grigoriev IV, Zhong S, Turgeon BG
Comparative genome structure, secondary metabolite, and effector coding capacity across Cochliobolus pathogens.
PLoS Genet. 2013;9(1):e1003233. doi: 10.1371/journal.pgen.1003233