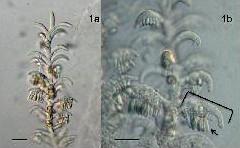 Coemansia reversa is a species of one of most commonly encountered genera of the Kickxellales, subphylum Kickxellomycotina. The genus is known for the intricacy and elegance of its microscopic reproductive branches called 'sporocladia' (Fig. 1a, b). With ~21 species, Coemansia is also one of the largest genera in this subphylum. Kickxellomycotina are saprobes, mycoparasites or symbionts of aquatic arthropods or aquatic stages of arthropods. Coemansia species are most often collected on dung and soil but they have also been isolated from dead insects and other organic matter.

Kickellomycotina is one of the five subphyla formerly classified in Zygomycota. Current data support Kickellomycotina as a unique lineage among the early diverging fungi, distinct from the Mucoromycotina (e.g., Rhizopus and Phycomyces). As such, they likely represent a reservoir of unique genes and enzyme potential.
Genome Reference(s)
Please cite the following publication(s) if you use the data from this genome in your research:
Chang Y, Wang S, Sekimoto S, Aerts AL, Choi C, Clum A, LaButti KM, Lindquist EA, Yee Ngan C, Ohm RA, Salamov AA, Grigoriev IV, Spatafora JW, Berbee ML
Phylogenomic Analyses Indicate that Early Fungi Evolved Digesting Cell Walls of Algal Ancestors of Land Plants.
Genome Biol Evol. 2015 May 14;7(6):1590-601. doi: 10.1093/gbe/evv090