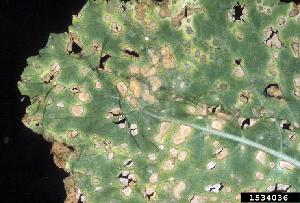 This genome was sequenced by the Broad Institute.

This description is quoted from the Broad institute.
Colletotrichum higginsianum causes anthracnose leaf spot disease on many cultivated forms of Brassica and Raphanus, but can also infect the model plant Arabidopsis thaliana. This provides an attractive pathosystem for dissecting fungal pathogenicity and plant resistance, in which both partners can be genetically manipulated. The pathogen employs a hemibiotrophic infection strategy to invade host plants, involving differentiation of a series of specialised cell types (infection structures). After initial penetration of host epidermal cells by appressoria, the fungus grows biotrophically inside living epidermal cells, producing bulbous primary hyphae that invaginate the host plasma membrane, before later switching to a destructive necrotrophic phase associated with filamentous secondary hyphae. The fungus completes its asexual cycle by producing sporulating structures called acervuli on the surface of the dead tissue. Phylogenetic analysis based on sequencing the ITS regions of rDNA indicates that C. higginsianum forms part of a group of closely-related taxa that also includes C. destructivum (tobacco and legume pathogen) and C. linicola (flax pathogen). A characteristic feature of all three species is that the initial biotrophic phase of infection is restricted to a single host epidermal cell, in contrast to other hemibiotrophic Colletotrichum species, including C. graminicola, which establish biotrophy in many host cells.
Genome Reference(s)
Please cite the following publication(s) if you use the data from this genome in your research:
O'Connell RJ, Thon MR, Hacquard S, Amyotte SG, Kleemann J, Torres MF, Damm U, Buiate EA, Epstein L, Alkan N, Altmüller J, Alvarado-Balderrama L, Bauser CA, Becker C, Birren BW, Chen Z, Choi J, Crouch JA, Duvick JP, Farman MA, Gan P, Heiman D, Henrissat B, Howard RJ, Kabbage M, Koch C, Kracher B, Kubo Y, Law AD, Lebrun MH, Lee YH, Miyara I, Moore N, Neumann U, Nordström K, Panaccione DG, Panstruga R, Place M, Proctor RH, Prusky D, Rech G, Reinhardt R, Rollins JA, Rounsley S, Schardl CL, Schwartz DC, Shenoy N, Shirasu K, Sikhakolli UR, Stüber K, Sukno SA, Sweigard JA, Takano Y, Takahara H, Trail F, van der Does HC, Voll LM, Will I, Young S, Zeng Q, Zhang J, Zhou S, Dickman MB, Schulze-Lefert P, Ver Loren van Themaat E, Ma LJ, Vaillancourt LJ
Lifestyle transitions in plant pathogenic Colletotrichum fungi deciphered by genome and transcriptome analyses.
Nat Genet. 2012 Sep;44(9):1060-5. doi: 10.1038/ng.2372