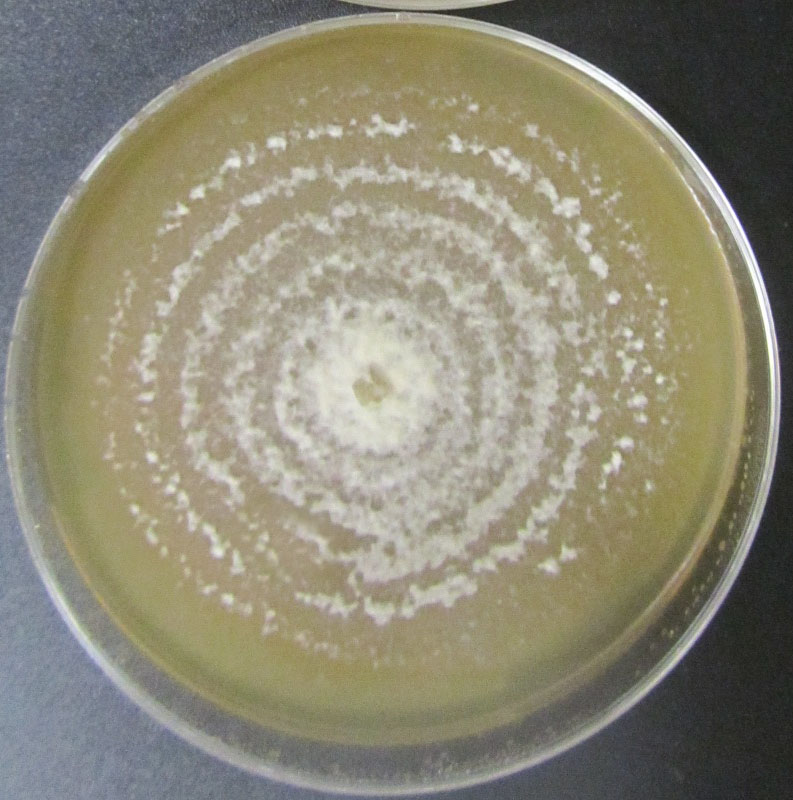 Cryptodiaporthe sp. AZ0812 was isolated in culture from a surface-sterilized leaf of the angiosperm Quercus hypoleucoides (Fagaceae) in southwestern Arizona as part of a study examining endophytic and endolichenic fungal communities across North America (U'Ren et al., 2012). We identified this isolate as an unidentified species of Cryptodiaporthe (Pezizomycotina, Sordariomycetes, Diaporthales, Gnomoniaceae) using ITS-partial LSU rDNA sequencing. Although currently placed in the Gnomoniaceae, phylogenetic evidence suggests that Cryptodiaporthe may reside within the Cryphonectriaceae (Begoude et al., 2010, Crane & Burgess, 2013). Previously studied Cryptodiaporthe species are pathogens of woody plants (e.g., Cryptodiaporthe corni causing cankers on Cornus in the United States, and C. melanocraspeda on Banksia in Australia; Beier et al., 2015; Shearer & Crane, 2015). Beier et al. (2015) found evidence that the lifecycle of C. corni can include a latent endophytic stage in stems. As an endophyte, the genome of AZ0812 is especially useful for comparative genomic analyses to examine the evolution of fungal pathogenicity and virulence.
References:
Begoude, A.D.B. M., Gryzenhout, M.J. Wingfield, J. Roux. 2010. Aurifilum, a new fungal genus in the Cryphonectriaceae from Terminalia species in Cameroon. Antonie van Leeuwenhoek 98:263–278.
Beier, G.L., S.C. Hokanson, S.T. Bates, R.A. Blanchette. 2015. Aurantioporthe corni gen. et comb. nov., an endophyte and pathogen of Cornus alternifolia. Mycologia 104:66–79.
Crane, C., T.I. Burgess. 2013. Luteocirrhus shearii gen. sp. nov. (Diaporthales, Cryphonectriaceae) pathogenic to Proteaceae in the South Western Australian floristic region. IMA Fungus 4:111–122.
Shearer, B. L., C. E. Crane.2014. Genetic, morphological and pathogenic diversity in the canker pathogen Cryptodiaporthe melanocraspeda on Banksia. Australasian Plant Pathol. 44: 299–309.
U'Ren, J. M., F. Lutzoni, J. Miadlikowska, A. Laetsch & A. E. Arnold. 2012. Host- and geographic structure of endophytic and endolichenic fungi at a continental scale. American Journal of Botany. 99: 898–914.