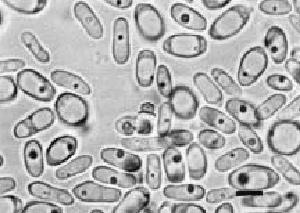 The asexual state of Cyberlindnera jadinii is the well known species Candida utilis, which has been used since the early 1900s as a fodder yeast for livestock and as a dietary supplement for humans. The species grows well on pentoses and tolerates lignin by-products, which has made it attractive for bioremediation of paper processing wastes. C. utilis has also been reported to synthesize (R)-phenylacetylcarbinol, a pharmaceutical precursor. C. jadinii has been isolated from a variety of substrates, but the natural habitat of this species is uncertain. Some strains are from clinical sources, but the species appears to be a low grade opportunistic pathogen.
Genome Reference(s)
Please cite the following publication(s) if you use the data from this genome in your research:
Riley R, Haridas S, Wolfe KH, Lopes MR, Hittinger CT, Göker M, Salamov AA, Wisecaver JH, Long TM, Calvey CH, Aerts AL, Barry KW, Choi C, Clum A, Coughlan AY, Deshpande S, Douglass AP, Hanson SJ, Klenk HP, LaButti KM, Lapidus A, Lindquist EA, Lipzen AM, Meier-Kolthoff JP, Ohm RA, Otillar RP, Pangilinan JL, Peng Y, Rokas A, Rosa CA, Scheuner C, Sibirny AA, Slot JC, Stielow JB, Sun H, Kurtzman CP, Blackwell M, Grigoriev IV, Jeffries TW
Comparative genomics of biotechnologically important yeasts.
Proc Natl Acad Sci U S A. 2016 Aug 30;113(35):9882-7. doi: 10.1073/pnas.1603941113