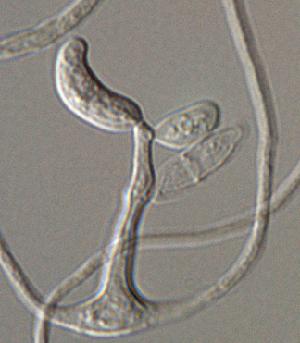 The genus Dissoconium (Dissoconiaceae, Dothideomycetes) is reported to be hyperparasitic on powdery mildew. The characteristic feature of the genus is conidia that are formed in pairs that are forcefully discharged, which is quite unique in the Capnodiales. There is evidence that some species in the family, such as Uwebraunia dekkeri could be plant pathogenic, while some species occur as commensalists, associated with pathogenic species of Capnodiales.

References:
Crous PW, Braun U, Groenewald JZ (2007). Mycosphaerella is polyphyletic. Studies in Mycology 58: 1–32.
Li HY, Sun GY, Zhai XR, Batzer JC, Mayfield DA, Crous PW, Groenewald JZ, Gleason ML. (2012). Dissoconiaceae associated with sooty blotch and flyspeck on fruits in China and the United States. Persoonia 28: 113–125.