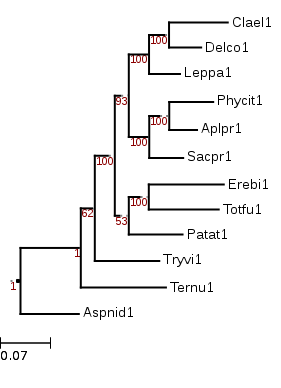 The genus Eremomyces is the type genus for the family Eremomycetaceae (Dothideomycetes) which also includes Arthrographis and Rhexothecium.
Eremomycetaceae are characterized by pseudoparenchymatous ascoma initials, non-ostiolate, dark ascomata, irregularly disposed, small, clavate, thin-walled, evanescent asci and one-celled, hyaline ascospores.
Dothideomycetes is the largest and most diverse class of ascomycete fungi. It comprises 11 orders 90 families, 1300 genera and over 19,000 known species.
The Eremomyces bilateralis genome was sequenced as part of the 1000 Fungal Genomes Project.