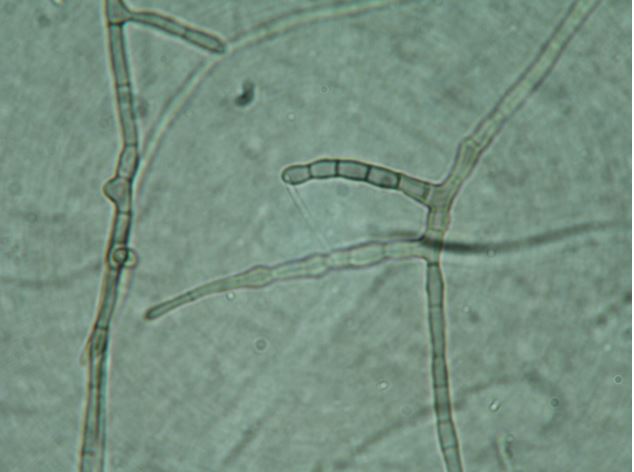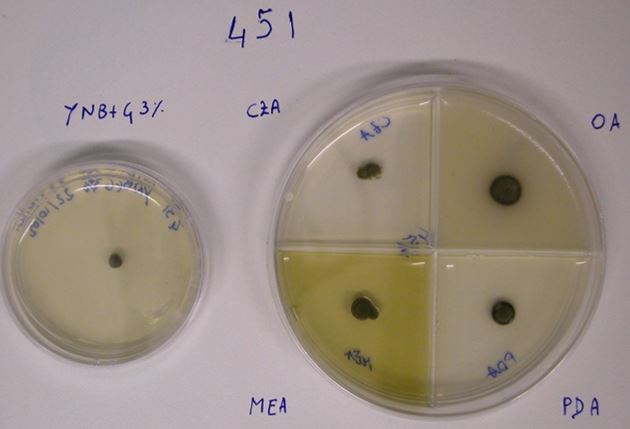 Extremus antarcticus MNA-CCFEE 451
Extremus antarcticus (Selbmann & de Hoog) Quaedvl. & Crous, Persoonia 33: 22. 2014. Nom. inval., Art. 40.7 (Shenzhen). Synonyms: Devriesia antarctica Selbmann & de Hoog, Fungal Diversity 65: 150. 2014. Nom. inval., Art. 40.7 (Shenzhen).
Extremus antarcticus has been isolated from a sandstone colonized by cryptoendolithic communities in McMurdo Dry Valleys, Continental Antarctica (Linnaeus Terrace, -77,60000, 161,08333), collected by E.I. Friedmann in 1980. Holotypus CBS 136103 = CCFEE 451
Extremus antarcticus is a member of the Extremaceae family from the order Capnodiales (Ascomycota).
Colonies grow slowly and produce fine velvety mycelium, attaining up to 8 mm in diameter over 12 weeks; black in reverse, grayish in obverse; raised centrally, flat near the periphery. Hyphae septate, pale brown, often aggregating into strands. Conidia and chlamydospores absent; teleomorph unknown.
This fungus was sequenced as part of the Shed light in The daRk lineagES of the Fungal Tree Of Life, (STRES) project. STRES aims to fill in gaps in the Fungal Tree of Life by sequencing at least 96 reference genomes from the group of black fungi. This project additionally aims to: i) gain insights into the evolutionary processes allowing Black fungi to successfully adapt to extremes and ii) clarify their role in the functioning ecosystems.
References:
Egidi, E., De Hoog, G. S., Isola, D., Onofri, S., Quaedvlieg, W., De Vries, M., ... & Selbmann, L. (2014). Phylogeny and taxonomy of meristematic rock-inhabiting black fungi in the Dothideomycetes based on multi-locus phylogenies. Fungal Diversity, 65(1), 127-165.
Quaedvlieg, W., Binder, M., Groenewald, J. Z., Summerell, B. A., Carnegie, A. J., Burgess, T. I., & Crous, P. W. (2014). Introducing the consolidated species concept to resolve species in the Teratosphaeriaceae. Persoonia-Molecular Phylogeny and Evolution of Fungi, 33(1), 1-40.
Selbmann, L., Benkő, Z., Coleine, C., De Hoog, S., Donati, C., Druzhinina, I., ... & Stajich, J. E. (2020). Shed light in the dark lineages of the fungal tree of life—stres. Life, 10(12), 362.