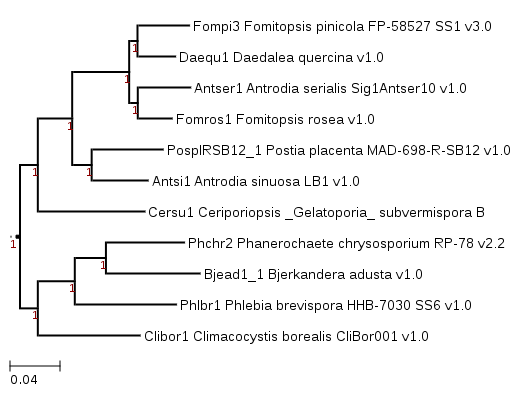 This genome was sequenced as part of the JGI CSP "Survey of the lignocellulolytic capabilities over the order Polyporales" project. Within Agaricomycotina, the order Polyporales is the major group of wood decayers in temperate and tropical forests. As such, Polyporales have a pivotal role in the global carbon cycle. Polyporales include white-rot and brown-rot filamentous fungi able to degrade lignocellulose polymers from wood through the production of extracellular enzymes and oxygen radicals. Lignocellulose is a high potential renewable resource for the production of biofuels and chemicals, including platform molecules and high-value chemicals. Therefore, white-rot and brown-rot filamentous fungi have a high potential for biotechnological processes, particularly for lignocellulosic feedstock biorefinery applications. The genome sequencing for these fungi will allow the identification of novel biocatalysts to be used in biorefineries for plant biomass conversion or bioremediation.
Rhodofomes roseus (Alb. & Schwein.) Vlasák 1990 (Mycobank #127496), previously named Fomitopsis rosea (Alb. & Schwein.) P. Karst. 1881, is a brown-rot fungus mainly found on conifers, preferentially on Picea abies, rarely on deciduous trees. It can grow on living trees and on timbers. The species is typically found in continental and mountain areas, such as the Alpine area. It is broadly distributed in Europe, although not much frequent, where it follows the large extension of conifers.
Genome Reference(s)
Please cite the following publication(s) if you use the data from this genome in your research:
Hage H, Miyauchi S, Virágh M, Drula E, Min B, Chaduli D, Navarro D, Favel A, Norest M, Lesage-Meessen L, Bálint B, Merényi Z, de Eugenio L, Morin E, Martínez AT, Baldrian P, Štursová M, Martínez MJ, Novotny C, Magnuson JK, Spatafora JW, Maurice S, Pangilinan J, Andreopoulos W, LaButti K, Hundley H, Na H, Kuo A, Barry K, Lipzen A, Henrissat B, Riley R, Ahrendt S, Nagy LG, Grigoriev IV, Martin F, Rosso MN
Gene family expansions and transcriptome signatures uncover fungal adaptations to wood decay.
Environ Microbiol. 2021 Oct;23(10):5716-5732. doi: 10.1111/1462-2920.15423