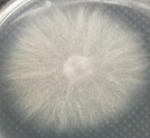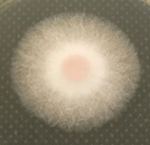 The genome of Fusarium oxysporum NRRL 26365 was provided to JGI by Li-Jun Ma. In order to allow comparative analyses with other fungal genomes sequenced by the JGI, a copy of this genome is incorporated into Mycocosm. The JGI Fungal Annotation Pipeline was used to predict gene models and provide functional annotation.
Fusarium oxysporum clinical isolate NRRL 26365 is isolated from a brain autopsy sample in New York, USA. Phylogenetic analysis indicated that NRRL 26265 resided within the phylogenetically diverse clade 3 but not within the widespread clonal lineage, subclade 3a (O'Donnell et al. 2004). Genome assembly was performed using Illumina and PacBio reads. The final assembly was 48.50 Mb with a total of 282 contigs, the largest being 2.7 Mb. The sequencing of NRRL 26365 is part of an effort to understand the genome diversity of Fusarium oxysporum clinical isolates, which included NRRL 32931 and NRRL 47514 (Zhang et al. 2020). Comparative genome analysis among these clinical isolates will provide insights into the conserved elements of Fusarium oxysporum-human host adaptation, as well as specific adaptive features.
References:
O'Donnell, K., D. A. Sutton, M. G. Rinaldi, K. C. Magnon, P. A. Cox, S. G. Revankar, S. Sanche, et al. 2004. "Genetic Diversity of Human Pathogenic Members of the Fusarium Oxysporum Complex Inferred from Multilocus DNA Sequence Data and Amplified Fragment Length Polymorphism Analyses: Evidence for the Recent Dispersion of a Geographically Widespread Clonal Lineage and Nosocomial Origin." Journal of Clinical Microbiology 42 (11): 5109–20.