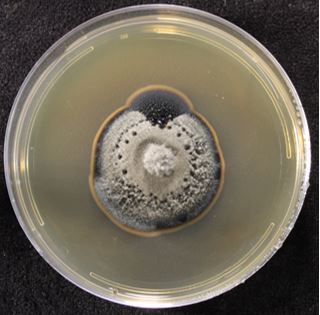 Gloniopsis sp. FL0384 was isolated in culture from a surface-sterilized thallus of the Spanish moss, Tillandsia usneoides (Bromeliaceae), in Archbold Biological Station, Florida as part of a study examining endophytic and endolichenic fungal communities across North America (U'Ren et al., 2012). We classified this isolate as an unidentified species of Gloniopsis (Pezizomycotina, Dothideomycetes, Pleosporomycetidae; Hysteriales; Hysteriaceae) via ITS-partial LSU rDNA sequencing. Species of Gloniopsis are primarily saprotrophs of wood and bark (Boehm et al., 2009). Isolated as an endophytic fungus, Gloniopsis sp. FL0384 is particularly useful for comparative genomic analyses to examine nutrient acquisition and substrate use in this diverse family.
References:
Boehm, E.W.A, C. L. Schoch, & J.W. Spatafora. 2009. On the evolution of the Hysteriaceae and Mytilinidiaceae (Pleosporomycetidae, Dothideomycetes, Ascomycota) using four nuclear genes. Mycological Research 113: 461–479.
U'Ren, J. M., F. Lutzoni, J. Miadlikowska, A. Laetsch & A.E. Arnold. 2012. Host- and geographic structure of endophytic and endolichenic fungi at a continental scale. American Journal of Botany. 99: 898–914.