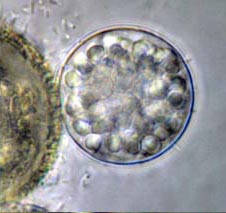 Globomyces pollinis-pini is a saprotrophic chytrid in the order Rhizophydiales. G. pollinis-pini is known from aquatic habitats as a saprotroph growing on the surface of pollen grains. Zoospores are discharged from a vesicle released from a single papillum. Isolate ARG68 was collected from Regatas Lake, Palermo Woods, Buenos Aires City, Argentina.

G. pollinis-pini can be cultured on nutrient agar and is representative of the great diversity of saprotrophic chytrids in aquatic habitats. This genome therefore helps complete the phylogenetic framework and genetic profiles of early diverging fungal lineages. G. pollinis-pini is from the same order as that of the amphibian killing chytrid, Batrachochytrium dendrobatidis.
References:
Letcher PM, Vélez CG, Barrantes ME, Powell MJ, Churchill PF, Wakefield WS. Ultrastructural and molecular analyses of Rhizophydiales (Chytridiomycota) isolates from North America and Argentina. Mycol Res. 2008;112(7):759-82.
Genome Reference(s)
Please cite the following publication(s) if you use the data from this genome in your research:
Amses KR, Simmons DR, Longcore JE, Mondo SJ, Seto K, Jerônimo GH, Bonds AE, Quandt CA, Davis WJ, Chang Y, Federici BA, Kuo A, LaButti K, Pangilinan J, Andreopoulos W, Tritt A, Riley R, Hundley H, Johnson J, Lipzen A, Barry K, Lang BF, Cuomo CA, Buchler NE, Grigoriev IV, Spatafora JW, Stajich JE, James TY
Diploid-dominant life cycles characterize the early evolution of Fungi.
Proc Natl Acad Sci U S A. 2022 Sep 6;119(36):e2116841119. doi: 10.1073/pnas.2116841119