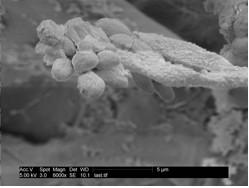 Nodulosporium sp. was obtained from Neea floribunda in the Ecuadorian Amazon. The organism was verified as a Nodulosporium sp. by SEM imaging (Fig.1). Molecular genetics studies showed that the organism was a Hypoxylon sp. by a high homology in the 18S rDNA. Analysis of the volatile organic compounds (VOCs) of this organism revealed that it is a strong producer of 1,8-cineole along with many other hydrocarbon-like molecules. The organism encodes pathways that produce potential fuel-related molecules.
Genome Reference(s)
Please cite the following publication(s) if you use the data from this genome in your research:
Wu W, Davis RW, Tran-Gyamfi MB, Kuo A, LaButti K, Mihaltcheva S, Hundley H, Chovatia M, Lindquist E, Barry K, Grigoriev IV, Henrissat B, Gladden JM
Characterization of four endophytic fungi as potential consolidated bioprocessing hosts for conversion of lignocellulose into advanced biofuels.
Appl Microbiol Biotechnol. 2017 Mar;101(6):2603-2618. doi: 10.1007/s00253-017-8091-1