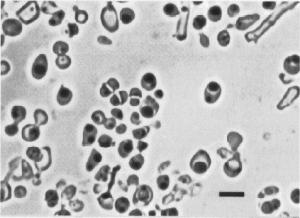 Hyphopichia burtonii grows on starch and is phylogenetically basal to Metschnikowia. The species is wide spread in nature and appears to be strongly competitive (1) . Wickerhamomyces anomalus, Hyphopichia burtonii and Saccharomycopsis fibuligera are spoilage yeasts that cause chalk mould defects on partially baked breads and traditional cookies (2). H. burtonii has been found in cured meat (4) and traditional tapioca cookies (3) . It appears to have fairly strong amylolytic activity.
Genome Reference(s)
Please cite the following publication(s) if you use the data from this genome in your research:
Riley R, Haridas S, Wolfe KH, Lopes MR, Hittinger CT, Göker M, Salamov AA, Wisecaver JH, Long TM, Calvey CH, Aerts AL, Barry KW, Choi C, Clum A, Coughlan AY, Deshpande S, Douglass AP, Hanson SJ, Klenk HP, LaButti KM, Lapidus A, Lindquist EA, Lipzen AM, Meier-Kolthoff JP, Ohm RA, Otillar RP, Pangilinan JL, Peng Y, Rokas A, Rosa CA, Scheuner C, Sibirny AA, Slot JC, Stielow JB, Sun H, Kurtzman CP, Blackwell M, Grigoriev IV, Jeffries TW
Comparative genomics of biotechnologically important yeasts.
Proc Natl Acad Sci U S A. 2016 Aug 30;113(35):9882-7. doi: 10.1073/pnas.1603941113
References:
1. Kurtzman CP (2005) New species and a new combination in the Hyphopichia and Yarrowia yeast clades. Antonie Van Leeuwenhoek International Journal of General and Molecular Microbiology 88(2):121-130.
2. Deschuyffeleer N, et al. (2011) Identification and characterization of yeasts causing chalk mould defects on par-baked bread. Food Microbiology 28(5):1019-1027.
3. Lee AC & Fujio Y (1999) Microflora of banh men, a fermentation starter from Vietnam. World Journal of Microbiology & Biotechnology 15(1):57-62.
4. Simoncini N, Rotelli D, Virgili R, & Quintavalla S (2007) Dynamics and characterization of yeasts during ripening of typical Italian dry-cured ham. Food Microbiology 24(6):577-584.