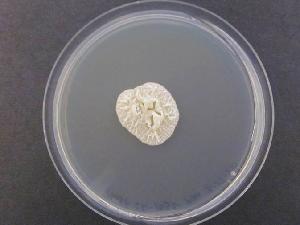 The Leucosporidiella creatinivora genome was sequenced as part of the 1000 Fungal Genomes Project.
Leucosporidiella is a genus of fungi found in the family Leucosporidiaceae (Pucciniomycotina). Leucosporidiella creatinivora (Syn=Rhodotorula creatinivora) was originally isolated from permafrost soil in Siberia. It shows a yeast like growth with ellipsoid to ovoid cells with predominantly polar budding. The cultures are cream colored and butyrous or mucoid. Red, pink or orange pigments are not synthesized.
Genome Reference(s)
Please cite the following publication(s) if you use the data from this genome in your research:
Mondo SJ, Dannebaum RO, Kuo RC, Louie KB, Bewick AJ, LaButti K, Haridas S, Kuo A, Salamov A, Ahrendt SR, Lau R, Bowen BP, Lipzen A, Sullivan W, Andreopoulos BB, Clum A, Lindquist E, Daum C, Northen TR, Kunde-Ramamoorthy G, Schmitz RJ, Gryganskyi A, Culley D, Magnuson J, James TY, O'Malley MA, Stajich JE, Spatafora JW, Visel A, Grigoriev IV
Widespread adenine N6-methylation of active genes in fungi.
Nat Genet. 2017 Jun;49(6):964-968. doi: 10.1038/ng.3859