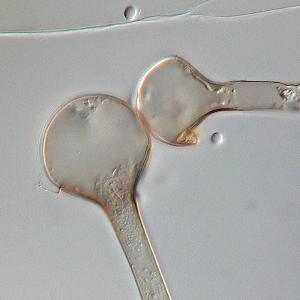 Lichthemia corymbifera is a saprotrophic member of the Mucoromycotina. It was originally found in Central Europe, but is found world-wide. Lichtheimia corymbifera JMRC:FSU:9682 was collected from Genbank and imported into MycoCosm for comparative purposes.
Genome Reference(s)
Please cite the following publication(s) if you use the data from this genome in your research:
Schwartze VU, Winter S, Shelest E, Marcet-Houben M, Horn F, Wehner S, Linde J, Valiante V, Sammeth M, Riege K, Nowrousian M, Kaerger K, Jacobsen ID, Marz M, Brakhage AA, Gabaldón T, Böcker S, Voigt K
Gene expansion shapes genome architecture in the human pathogen Lichtheimia corymbifera: an evolutionary genomics analysis in the ancient terrestrial mucorales (Mucoromycotina).
PLoS Genet. 2014 Aug;10(8):e1004496. doi: 10.1371/journal.pgen.1004496