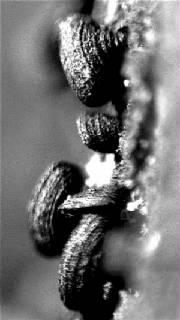 Lophium mytilinum (Pers.) Fries (Mytilinidiaceae) forms coaly, shell-shaped ascocarps with a foot like base. The asci are cylindrical with a short thick stipe and they contain eight spores. Slender paraphyses are branching and septate. This species is thought to be cosmopolitan in temperate zones. Lophium mytilinum seems limited to coniferous substrates, however, the ecology is not known in detail.
Genome Reference(s)
Please cite the following publication(s) if you use the data from this genome in your research:
Haridas S, Albert R, Binder M, Bloem J, LaButti K, Salamov A, Andreopoulos B, Baker SE, Barry K, Bills G, Bluhm BH, Cannon C, Castanera R, Culley DE, Daum C, Ezra D, González JB, Henrissat B, Kuo A, Liang C, Lipzen A, Lutzoni F, Magnuson J, Mondo SJ, Nolan M, Ohm RA, Pangilinan J, Park HJ, Ramírez L, Alfaro M, Sun H, Tritt A, Yoshinaga Y, Zwiers LH, Turgeon BG, Goodwin SB, Spatafora JW, Crous PW, Grigoriev IV
101 Dothideomycetes genomes: A test case for predicting lifestyles and emergence of pathogens.
Stud Mycol. 2020 Jun;96():141-153. doi: 10.1016/j.simyco.2020.01.003