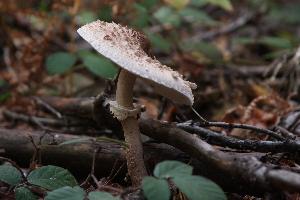 Within the framework of the CSP project 'Metatranscriptomics of Forest Soil Ecosystems', we are aiming to explore the interaction of forest trees with communities of soil fungi, including ectomycorrhizal symbionts that dramatically affect bioenergy-relevant plant growth, and saprotrophic soil fungi impacting carbon sequestration in forests. We are sequencing the metatranscriptome of soil fungi in ecosystems representative of major Earth ecosystems, the boreal, temperate and mediterranean forests. We are also sequencing the genome of the most abundant fungal species harvested on studied sites to serve as the foundation for a reference database for metagenomics of fungi and for a comprehensive survey of the potential soil fungal metabolome.
Macrolepiota fuliginosa
Macrolepiota fuliginosa (Barla) Bon, is a litter-decomposing basidiomycete belonging to the order Agaricales. Due to their morphological similarities it was originally classified as a variety of Macrolepiota procera (Macrolepiota procera var. fuliginosa (Barla) Bellù & Lanzonidue). M. fuliginosa grows preferentially in Fagus, Quercus or conifer forests in southern Europe, and plays an important role in the breakdown and chemical conversion of litter components to simpler compounds. The sequencing of the M. fuliginosa as reference genome within the framework of the 'Metatranscriptomics of Forest Soil Ecosystems' project will provide new insights into the diversity of forest fungal communities and their role in nutrient cycling.
Genome Reference(s)
Please cite the following publication(s) if you use the data from this genome in your research:
Ruiz-Dueñas FJ, Barrasa JM, Sánchez-García M, Camarero S, Miyauchi S, Serrano A, Linde D, Babiker R, Drula E, Ayuso-Fernández I, Pacheco R, Padilla G, Ferreira P, Barriuso J, Kellner H, Castanera R, Alfaro M, Ramírez L, Pisabarro AG, Riley R, Kuo A, Andreopoulos W, LaButti K, Pangilinan J, Tritt A, Lipzen A, He G, Yan M, Ng V, Grigoriev IV, Cullen D, Martin F, Rosso MN, Henrissat B, Hibbett D, Martínez AT
Genomic Analysis Enlightens Agaricales Lifestyle Evolution and Increasing Peroxidase Diversity.
Mol Biol Evol. 2021 Apr 13;38(4):1428-1446. doi: 10.1093/molbev/msaa301