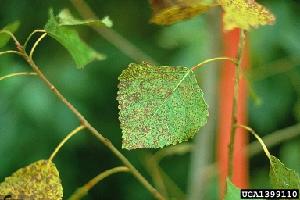 Marssonina brunnea f. sp. 'multigermtubi' MB_m1 is one of the causal agents of Marssonina leaf spot on poplar. Symptoms on poplar include small, circular spots on leaves, premature defoliation and dieback. M. brunnea was imported into mycocosm for comparative purposes, as it represents the first sequenced member of the Dermateaceae family (Leotiomycetes).
Genome Reference(s)
Please cite the following publication(s) if you use the data from this genome in your research:
Zhu S, Cao YZ, Jiang C, Tan BY, Wang Z, Feng S, Zhang L, Su XH, Brejova B, Vinar T, Xu M, Wang MX, Zhang SG, Huang MR, Wu R, Zhou Y
Sequencing the genome of Marssonina brunnea reveals fungus-poplar co-evolution.
BMC Genomics. 2012 Aug 9;13():382. doi: 10.1186/1471-2164-13-382