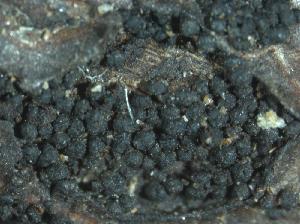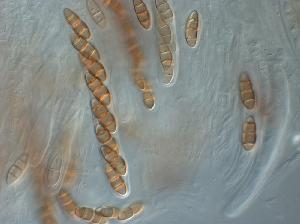 Melanomma pulvis-pyrius (Pleosporales) is a widespread fungus that belongs to the Melanomataceae. This species is saprotrophic on debris of numerous trees and shrubs, especially Fagus, but its ecological significance is unknown. Black spherical ascomata occur in clusters from winter to spring and Melanomma pulvis-pyrius also produces a so-called Aposphaeria asexual state. It is frequently encountered in microhabitats including rot holes and surface rot, but it is not clear whether an endophytic stage is involved in the life cycle of the fungus. The rot produced by Melanomma pulvis-pyrius progresses slowly and contributes to higher pH levels, which enables numerous epiphytic fungal and bryophyte species to colonize the same substrate.
Genome Reference(s)
Please cite the following publication(s) if you use the data from this genome in your research:
Haridas S, Albert R, Binder M, Bloem J, LaButti K, Salamov A, Andreopoulos B, Baker SE, Barry K, Bills G, Bluhm BH, Cannon C, Castanera R, Culley DE, Daum C, Ezra D, González JB, Henrissat B, Kuo A, Liang C, Lipzen A, Lutzoni F, Magnuson J, Mondo SJ, Nolan M, Ohm RA, Pangilinan J, Park HJ, Ramírez L, Alfaro M, Sun H, Tritt A, Yoshinaga Y, Zwiers LH, Turgeon BG, Goodwin SB, Spatafora JW, Crous PW, Grigoriev IV
101 Dothideomycetes genomes: A test case for predicting lifestyles and emergence of pathogens.
Stud Mycol. 2020 Jun;96():141-153. doi: 10.1016/j.simyco.2020.01.003