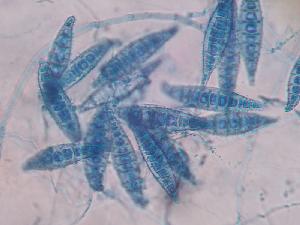 This genome was sequenced by the Broad Institute.

The genome is sequenced as part of a comparative genomics project by the Broad Institute which includes sequencing of four other species representing human-specific (anthropophile eg.: Trichophyton rubrum and T. tonsurans), mammal-specific (zoophile eg.: T. equinum) and soil-dwelling (geophile eg.: Microsporum gypseum) taxa.

Microsporum canis is the most commonly encountered zoophile in human infection. It is the most common cause of tinea capitis (fungal head infections) in Europe. M. canis is also a problem in pets, including dogs and cats, where it causes ringworm. M. canis is mating competent.
Genome Reference(s)
Please cite the following publication(s) if you use the data from this genome in your research:
Martinez DA, Oliver BG, Gräser Y, Goldberg JM, Li W, Martinez-Rossi NM, Monod M, Shelest E, Barton RC, Birch E, Brakhage AA, Chen Z, Gurr SJ, Heiman D, Heitman J, Kosti I, Rossi A, Saif S, Samalova M, Saunders CW, Shea T, Summerbell RC, Xu J, Young S, Zeng Q, Birren BW, Cuomo CA, White TC
Comparative genome analysis of Trichophyton rubrum and related dermatophytes reveals candidate genes involved in infection.
mBio. 2012;3(5):e00259-12. doi: 10.1128/mBio.00259-12