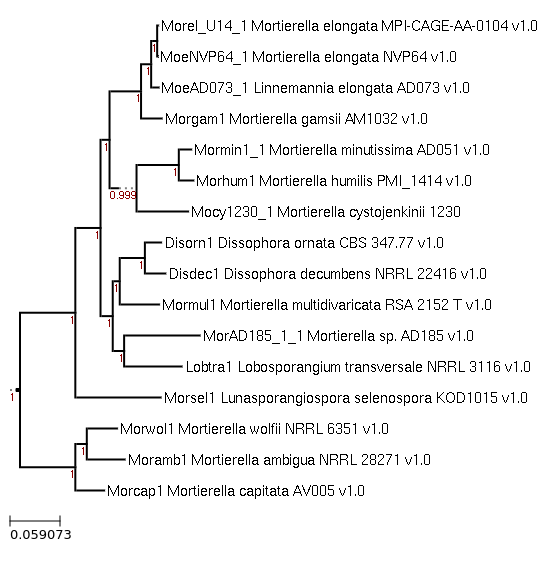 This genome was sequenced at low coverage by the Joint Genome Institute (JGI), then assembled and annotated by Jason Stajich. In order to allow comparative analyses with other fungal genomes sequenced by the JGI, a copy of this genome is incorporated into Mycocosm.
Gryganskiella cystojenkinii 1230 is a member of the Mortierellaceae family within the Mortierellomycotina subphylum. This lineage, along with many other Mortierellaceae strains, is part of an effort to resolve the Mortierellaceae into monophyletic groups (Vandepol et al., 2020). This work led to the definition of 14 genera and demonstrates that low coverage genome sequencing can provide a cost-effective means to generate high quality phylogenies.
Genome Reference(s)
Please cite the following publication(s) if you use the data from this genome in your research:
Vandepol N, Liber J, Desirò A, Na H, Kennedy M, Barry K, Grigoriev IV, Miller AN, O'Donnell K, Stajich JE, Bonito G
Resolving the Mortierellaceae phylogeny through synthesis of multi-gene phylogenetics and phylogenomics.
Fungal Divers. 2020 Sep;104(1):267-289. doi: 10.1007/s13225-020-00455-5