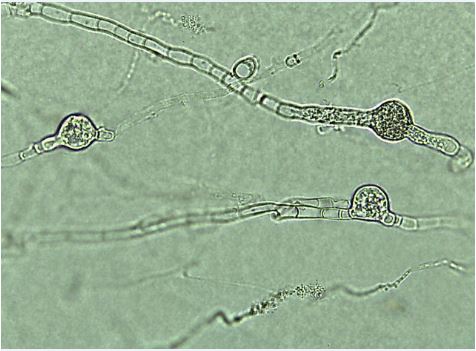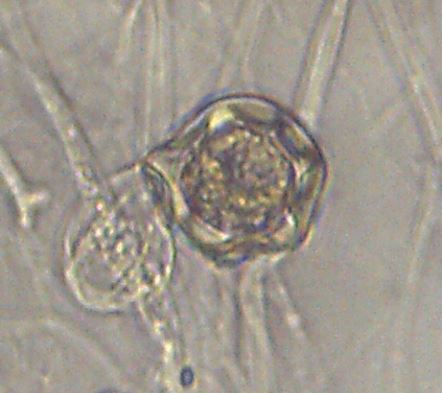 Within the framework of the 'Comparative genomics of early diverging terrestrial fungi and their bacterial endosymbionts' CSP1450 project, we are exploring interactions and evolutionary histories of early diverging lineages of terrestrial fungi and their endobacteria (Desirò et al. 2018; Uehling et al. 2017). Towards this goal, we are sequencing metagenomes and metatranscriptomes of a diverse panel of fungi in Mucoromycota that host endohyphal bacteria.

Mortierella is a large genus of fungi within Mucoromycota, formerly classified as zygomycetes. These fungi are industrially important given their unique fatty acid and lipid metabolism, which is of interest for biofuel production. Mortierella species are distributed globally and are frequently isolated and detected in soils and plant rhizospheres. Many species grow rapidly, in part owing to their coenocytic mycelium that has occasional septa and frequent anastomoses. Mortierella are generally considered to be haploid and heterothallic, although some species are known to be homothallic (Gams et al. 1972). Of particular interest, Mortierella species can harbor endobacteria within their cells, which affect the fungal host's growth and physiology (Uehling et al. 2017).

Mortierella elongata NVP64 was isolated in 2015 from a wildlife forage field soil sample collected in Jackson, Michigan, USA. It displays a rosette pattern of growth (Fig 1). Young mycelium is coenocytic. When tissue is broken or dying, septa form and cell contents are progressively retracted into chlamydospores (Fig 2). The most common form of reproduction of NVP64 is through asexual sporangiospores and chlamydospores. Successful sexual mating of this isolate results in zygospores (Fig 3), which are characterized by a circular inner layer surrounded by a waved loose outer layer and remaining empty suspensor (Kuhlman, 1972). Mortierella elongata NVP64 contains the endosymbiotic bacteria Mycoavidus cysteinexigens (Ohshima et al. 2016).
References:
Desirò, Alessandro, Zhen Hao, Julian A. Liber, Gian Maria Niccolò Benucci, David Lowry, Robert Roberson, and Gregory Bonito. 2018. "Mycoplasma-Related Endobacteria within Mortierellomycotina Fungi: Diversity, Distribution and Functional Insights into Their Lifestyle." The ISME Journal 12 (7): 1743–57.
Gams, W., Chiu-Yuan Chien, and K. H. Domsch. 1972. "Zygospore Formation by the Heterothallic Mortierella elongata and a Related Homothallic Species, M. epigama Sp.nov." Transactions of the British Mycological Society 58 (1): 5–IN2.
Kuhlman, E. G. 1972. "Variation in Zygospore Formation among Species of Mortierella." Mycologia 64 (2): 325 – &.
Ohshima, Shoko, Yoshinori Sato, Reiko Fujimura, Yusuke Takashima, Moriyuki Hamada, Tomoyasu Nishizawa, Kazuhiko Narisawa, and Hiroyuki Ohta. 2016. "Mycoavidus cysteinexigens Gen. Nov., Sp. Nov., an Endohyphal Bacterium Isolated from a Soil Isolate of the Fungus Mortierella elongata." International Journal of Systematic and Evolutionary Microbiology, February. https://doi.org/10.1099/ijsem.0.000990.
Uehling, J., A. Gryganskyi, K. Hameed, T. Tschaplinski, P. K. Misztal, S. Wu, Desirò A, et al. 2017. "Comparative Genomics of Mortierella elongata and Its Bacterial Endosymbiont Mycoavidus cysteinexigens." Environmental Microbiology.