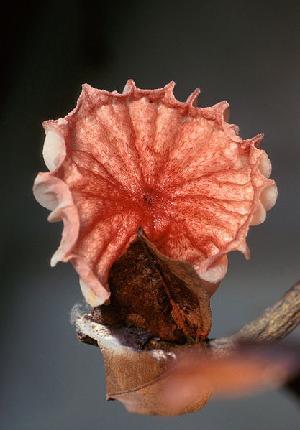 The genome sequence and gene predictions of Moniliophthora perniciosa were not determined by the JGI, but were downloaded from NCBI and have been published (Jorge MC Mondego et al., 2008). Please note that this copy of the genome is not maintained by the author and is therefore not automatically updated.
Moniliophthora perniciosa, previously known as Crinipellis perniciosa (Singer) Stahel, is a hemibiotrophic basidiomycete (Tricholomataceae, Agaricales, Marasmiaceae) fungus that causes Witches' broom disease (WBD) in cacao (Theobroma cacao L.). WBD and frosty pod rot (FPR), caused by Moniliophthora roreri, are the most devastating diseases of cacao in the Americas. Cacao production in southeastern Bahia, the main production area in Brazil, was severely affected by the introduction of WBD at the end of 1980's. This disease damaged Bahian agribusiness, caused major social problems and has contributed to the degradation of the Atlantic Rainforest ("Mata Atlântica"). This is because cacao producing areas, typically, maintained old-growth native tree species as shade for the cacao plantations, which were converted to pasture.
Genome Reference(s)
Please cite the following publication(s) if you use the data from this genome in your research:
Mondego JM, Carazzolle MF, Costa GG, Formighieri EF, Parizzi LP, Rincones J, Cotomacci C, Carraro DM, Cunha AF, Carrer H, Vidal RO, Estrela RC, García O, Thomazella DP, de Oliveira BV, Pires AB, Rio MC, Araújo MR, de Moraes MH, Castro LA, Gramacho KP, Gonçalves MS, Neto JP, Neto AG, Barbosa LV, Guiltinan MJ, Bailey BA, Meinhardt LW, Cascardo JC, Pereira GA
A genome survey of Moniliophthora perniciosa gives new insights into Witches' Broom Disease of cacao.
BMC Genomics. 2008 Nov 18;9():548. doi: 10.1186/1471-2164-9-548