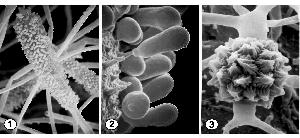 Mycotypha africana R.O. Novak & Backus (1963) is a zygomycete fungus classified in the family Mycotyphaceae [Order Mucorales]. It was isolated from soils collected from Zimbabwe (Novak and Backus 1963). Mycotypha produces a cylindrical vesicle at the tip of simple or branched sporangiophores. The vesicle bears two types of small projections: 1) one that is short and bears a globose, unispored sporangium (Fig. 1), and 2) a longer one that give rise to a more cylindrical unispored sporangium (Fig. 2). This species is self-fertile or homothallic, bearing ornamented and pigmented zygospores between opposed suspensors (Fig. 3; Benny et al. 1985). Species of Mycotypha are dimorphic and grow as a yeast in nutrient rich agar and as a filamentous colony on standard media. Sequencing of M. africana will advance the 1000 Fungal Genome Project by providing a representative genome for Mycotyphaceae, an important family of "zygomycetes" and additional insight into the evolution of dimorphic growth in early diverging fungi.
References:
Benny, G.L., P. M. Kirk, and R. A. Samson. 1985. Observations on Thamnidiaceae (Mucorales). III. Mycotyphaceae fam. nov. and a re-evaluation of Mycotypha sensu Benny & Benjamin illustrated by two new species. Mycotaxon 22:119-148.
Novak RO, Backus MP. 1963. A new species of Mycotypha with a zygosporic stage. Mycologia 55:790-798.
Genome Reference(s)
Please cite the following publication(s) if you use the data from this genome in your research:
Chang Y, Wang Y, Mondo S, Ahrendt S, Andreopoulos W, Barry K, Beard J, Benny GL, Blankenship S, Bonito G, Cuomo C, Desiro A, Gervers KA, Hundley H, Kuo A, LaButti K, Lang BF, Lipzen A, O'Donnell K, Pangilinan J, Reynolds N, Sandor L, Smith ME, Tsang A, Grigoriev IV, Stajich JE, Spatafora JW
Evolution of zygomycete secretomes and the origins of terrestrial fungal ecologies.
iScience. 2022 Aug 19;25(8):104840. doi: 10.1016/j.isci.2022.104840