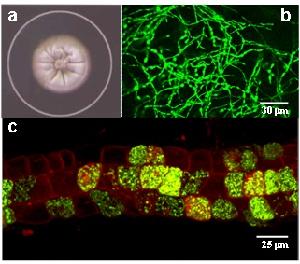 Oidiodendron maius (Barron, 1962) belongs to the phylum Ascomycota, Class Leotiomycetes. O. maius can be easily grown in vitro, where it reproduces asexually by forming conidia with a single haploid nucleus, that can germinate and produce a homokaryotic mycelium. Agrobacterium-mediated transformation (AMT) and protoplast transformation have been recently used to obtain random and GFP O. maius mutants. Moreover, it was O. maius itself the first mycorrhizal fungus in which a gene-targeted disruption via homologous recombination was realized. These tools would allow us to develop a powerful post-genomics activity. O. maius is an interesting experimental organism being both an endomycorrhizal fungus (with ericaceous plants, e.g. Vaccinium myrtillus, Calluna vulgaris), and a metal-tolerant fungus. The metal tolerance is particularly evident for strains isolated from the roots of V. myrtillus growing on heavy metal-polluted soils; these strains were demonstrated to tolerate metal concentrations that cause a complete growth inhibition of isolates coming from unpolluted soils. Moreover, there is evidence that this fungus has weathering capacities, as it can modify asbestos fibres. O. maius genome sequencing will allow us to make considerable advances in our understanding of the genetic and functional basis of the ericoid symbiosis, still poorly studied. Moreover, a sequencing project would be highly beneficial in our on-going efforts to study O. maius metal resistance mechanisms and to envisage its possible use in bioremediation projects. In fact the genome sequence could facilitate a rapid identification of the genes underlying the extremely high tolerance observed for this fungus.
Genome Reference(s)
Please cite the following publication(s) if you use the data from this genome in your research:
Kohler A, Kuo A, Nagy LG, Morin E, Barry KW, Buscot F, Canbäck B, Choi C, Cichocki N, Clum A, Colpaert J, Copeland A, Costa MD, Doré J, Floudas D, Gay G, Girlanda M, Henrissat B, Herrmann S, Hess J, Högberg N, Johansson T, Khouja HR, LaButti K, Lahrmann U, Levasseur A, Lindquist EA, Lipzen A, Marmeisse R, Martino E, Murat C, Ngan CY, Nehls U, Plett JM, Pringle A, Ohm RA, Perotto S, Peter M, Riley R, Rineau F, Ruytinx J, Salamov A, Shah F, Sun H, Tarkka M, Tritt A, Veneault-Fourrey C, Zuccaro A, Tunlid A, Grigoriev IV, Hibbett DS, Martin F
Convergent losses of decay mechanisms and rapid turnover of symbiosis genes in mycorrhizal mutualists.
Nat Genet. 2015 Apr;47(4):410-5. doi: 10.1038/ng.3223
Martino E, Morin E, Grelet GA, Kuo A, Kohler A, Daghino S, Barry KW, Cichocki N, Clum A, Dockter RB, Hainaut M, Kuo RC, LaButti K, Lindahl BD, Lindquist EA, Lipzen A, Khouja HR, Magnuson J, Murat C, Ohm RA, Singer SW, Spatafora JW, Wang M, Veneault-Fourrey C, Henrissat B, Grigoriev IV, Martin FM, Perotto S
Comparative genomics and transcriptomics depict ericoid mycorrhizal fungi as versatile saprotrophs and plant mutualists.
New Phytol. 2018 Feb;217(3):1213-1229. doi: 10.1111/nph.14974