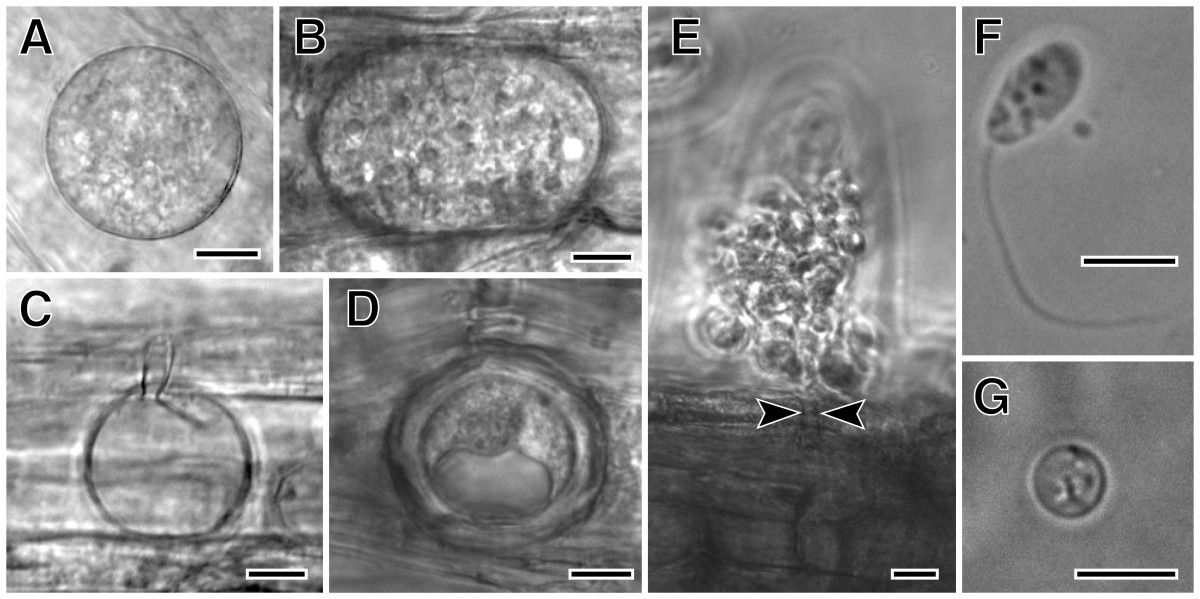 Olpidium is a zoosporic fungal genus, with 30 ~ 50 described species, many of which are obligate endoparasites of algae, plants, small animals and other fungi. There has not been any genus-wide systematic study on Olpidium and the taxonomic status of Olpidium needs to be evaluated. Most of our knowledge of Olpidium is based on studies on the root parasite species of O. bornovanus, O. virulentus and O. brassicae. In general, the infection by these Olpidium species does not cause any symptoms to the host plants. However, he zoospores of O. bornovanus and O. virulentus can function as vectors of viruses (e.g., Mirafiori lettuce big-vein virus), which often cause considerable damages to the host plants.
Morphologically, Olpidium resembles the typical 'core chytrid', with a holocarpic thallus that produces zoospores with a single posterior flagellum. However, recent rDNA and multigene phylogenetic reconstructions (James et al., 2006; Sekimoto et al., 2011) did not cluster Olpidium with the chytrids. Instead Olpidium was placed within the non-flagellated terrestrial fungi, suggesting there might be multiple flagellum-loss events in the evolution of the non-flagellated terrestrial fungi. We sequenced the whole genome of O. bornovaus. One of the major goals is to use a phyogenomic approach to infer an accurate placement of Olpidium in the fungal tree of life and to advance our understanding of the flagellum loss in fungi, one of the most important morphological transitions in fungal evolution.
The genome of Olpidium bornovanus UBC F19785 was extracted from a metagenome, sequenced at the DOE Joint Genome Institute, binned by Ying Chang at Oregon State University, then assembled and annotated by Jason Stajich at University of California at Riverside, then imported into MycoCosm. Please note that this version is not maintained by Ying Chang or Jason Stajich and therefore not automatically updated.
References:
James TY, Kauff F, Schoch CL, Matheny PB, Hofstetter V, Cox CJ, Celio G, Gueidan C, Fraker E, Miadlikowska J, et al. 2006. Reconstructing the early evolution of Fungi using a six-gene phylogeny. Nature 443: 818–822.
Sekimoto S, Rochon D, Long J, Dee J, Berbee M. 2011. A multigene phylogeny of Olpidium and its implications for early fungal evolution. BMC Evolutionary Biology 11: 331.
Genome Reference(s)
Please cite the following publication(s) if you use the data from this genome in your research:
Chang Y, Rochon D, Sekimoto S, Wang Y, Chovatia M, Sandor L, Salamov A, Grigoriev IV, Stajich JE, Spatafora JW
Genome-scale phylogenetic analyses confirm Olpidium as the closest living zoosporic fungus to the non-flagellated, terrestrial fungi.
Sci Rep. 2021 Feb 5;11(1):3217. doi: 10.1038/s41598-021-82607-4