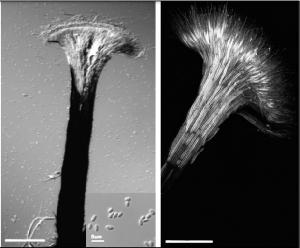 The genome sequence and gene predictions of Ophiostoma piceae were not determined by the JGI, but were downloaded from NCBI and have been published (Haridas et al., 2013). Please note that this copy of the genome is not maintained by the author and is therefore not automatically updated.
Ophiostoma piceae is a wood-staining fungus that grows in the sapwood of conifer logs and lumber.
O. piceae is a saprobe that is dispersed by generalist bark beetles. This fungal species has been reported in North America, Europe and Asia. In contrast to Grosmannia species, which penetrate deeply into the sapwood of pine logs and reach the heartwood boundary, O. piceae is a more superficial sap stain fungus that becomes established in the outer two to three centimetres of sapwood. Species in the O. piceae complex have retained the attention of wood industry researchers because they cause stain in processed wood and were the most commonly isolated species of sap stain fungi in Canadian saw mills. In contrast to G. clavigera, which is specific to pine, O. piceae is able to grow not only on pine, but also on wood of other conifers in Canada, including black and white spruce, balsam fir and hemlock. Because members of the O. piceae complex grow poorly on freshly cut pine logs and prefer the dryer environment of lumber or dead trees, their staining effects can be minimized by keeping logs frozen or saturated with water, or by prompt log processing.
Genome Reference(s)
Please cite the following publication(s) if you use the data from this genome in your research:
Haridas S, Wang Y, Lim L, Massoumi Alamouti S, Jackman S, Docking R, Robertson G, Birol I, Bohlmann J, Breuil C
The genome and transcriptome of the pine saprophyte Ophiostoma piceae, and a comparison with the bark beetle-associated pine pathogen Grosmannia clavigera.
BMC Genomics. 2013 Jun 2;14():373. doi: 10.1186/1471-2164-14-373