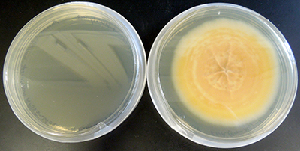 Coniothyrium-like fungi (including species belonging to the genus Paraconiothyrium) are a group of Ascomycete fungi that are present in soil environments worldwide. These fungi are of great societal interest because several species are known plant pathogens, biological control agents, bioremediators, and producers of metabolites with antimicrobial capabilities. Paraconiothyrium sporulosum (also known as Coniothyrium sporulosum or Coniothyrium fuckelii var. sporulosum) has a cosmopolitan distribution in soil. This species has been identified in the United States and Japan in passive bioremediation systems treating metalliferous waters – these organisms contribute to bioremediation processes by promoting the oxidation of dissolved Mn(II) compounds to insoluble Mn(III/IV) minerals. Furthermore, P. sporulosum can promote wood degradation. The degradation of recalcitrant carbon compounds (including humics, lignin, cellulose, etc.) is accomplished largely by the extracellular production of enzymes and reactive small molecules such as reactive oxygen species (ROS) and oxalate. Additionally, Mn(III) compounds and Mn(III/IV) oxide minerals (highly reactive oxidants) produced by P. sporulosum further promote carbon degradation as well as the biogeochemical cycling of metals in the environment. Production of reactive metabolites and oxidants is linked in part to secreted proteins, cell differentiation, nutrient composition, and species interactions, although the molecular mechanisms are not fully resolved. Genome sequencing in concert with transcriptome and secretome analysis of this and related Ascomycete fungi that promote lignocellulose degradation and Mn(II) oxidation will improving our understanding of the growth-specific production and total production potential of reactive metabolites and oxidants by Paraconiothyrium sporulosum. Ultimately, these results will improve model predictions of carbon degradation and CO2 emissions in a changing biogeochemical landscape as well as provide plausible approaches to increase carbon sequestration, metal bioremediation, and pathogen resistance.
Genome Reference(s)
Please cite the following publication(s) if you use the data from this genome in your research:
Zeiner CA, Purvine SO, Zink EM, Paša-Tolić L, Chaput DL, Haridas S, Wu S, LaButti K, Grigoriev IV, Henrissat B, Santelli CM, Hansel CM
Comparative Analysis of Secretome Profiles of Manganese(II)-Oxidizing Ascomycete Fungi.
PLoS One. 2016;11(7):e0157844. doi: 10.1371/journal.pone.0157844