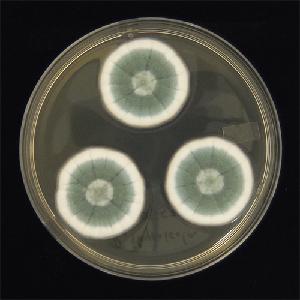 The type culture of Penicillium thymicola was isolated from thyme and this is how this species of Penicillium acquired its name. However, P. thymicola is not widely known possibly because of its misidentification from its resemblance to its close relatives, P. nordicum and P. verrucosum, which are important producers of the mycotoxin Ochratoxin A (OTA).
Penicillium thymicola was isolated from herbs, sorghum, air and soil previously. Never reported before, we identified OTA from the liquid culture extract of P. thymicola DAOMC 180753 recovered from Canadian cheddar cheese. This is the first report of ochratoxins by this species. The genome of this strain was subsequently sequenced, assembled and annotated to probe for putative genes involved in OTA biosynthesis.
Genome Reference(s)
Please cite the following publication(s) if you use the data from this genome in your research:
Nguyen HDT, McMullin DR, Ponomareva E, Riley R, Pomraning KR, Baker SE, Seifert KA
Ochratoxin A production by Penicillium thymicola.
Fungal Biol. 2016 Aug;120(8):1041-1049. doi: 10.1016/j.funbio.2016.04.002
Reference
Hai D.T. Nguyen, David R. McMullin, Ekaterina Ponomarev, Robert Riley, Kyle R. Pomraning, Scott E. Baker, Keith A. Seifert. Ochratoxin A production by Penicillium thymicola. Submitted