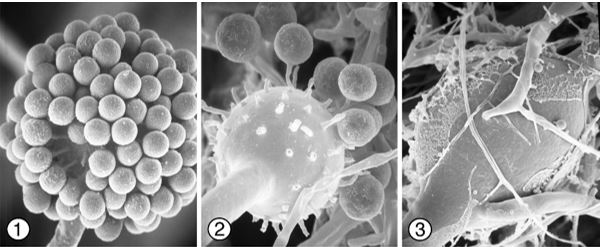 Phascolomyces articulosus (RSA 2281) is a monotypic mucoralean genus that was originally isolated from rat dung in Java, Indonesia. It was initially classified in the Cunninghamellaceae (Boedijn 1958), subsequently reclassified in the Thamnidiaceae (Benny & Benjamin 1976), and recently included in the Lichtheimiaceae (Walther et al. 2013). Multilocus molecular phylogenetic data indicate P. articulosus is distantly related to Cunninghamella and Thamnidium (O'Donnell et al. 2000), and its placement within the Lichtheimiaceae needs to be tested because this family may be non-monophyletic as currently circumscribed (Walther et al. 2013). Phascolomyces articulosus produces globose unispored sporangiola borne terminally on slender pedicles on sporangiophore vesicles (Figs. 1-2). It also produces darkly pigmented chlamydospores in the substrate mycelium (Fig. 3). This species it thought to be heterothallic because it does not produce zygospores in culture. The whole-genome of P. articulosus should advance our understanding of evolutionary relationships and genome evolution within the Mucorales and other early diverging fungi as part of the 1000 Fungal Genome Project.
References
Benny GL & Benjamin RK. 1976. Observations on Thamnidiaceae (Mucorales). II. Chaetocladium, Cokeromyces, Mycotypha, and Phascolomyces. Aliso 8:391–424.
Boedijn KB. 1958 (1959). Notes on the Mucorales of Indonesia. Sydowia 12:321–362.
O'Donnell K, Lutzoni F, Ward TJ, Benny GL. 2000. Evolutionary relationships among mucoralean fungi (Zygomycota): Evidence for family polyphyly on a large scale. Mycologia 93:286─296.
Walther G, Pawłowska J, Alastruey-Izquierdo A, Wrzosek M, Rodriguez-Tudela JL, et al. 2013. DNA barcoding in Mucorales: an inventory of biodiversity. Persoonia 30:11–47.
Genome Reference(s)
Please cite the following publication(s) if you use the data from this genome in your research:
Chang Y, Wang Y, Mondo S, Ahrendt S, Andreopoulos W, Barry K, Beard J, Benny GL, Blankenship S, Bonito G, Cuomo C, Desiro A, Gervers KA, Hundley H, Kuo A, LaButti K, Lang BF, Lipzen A, O'Donnell K, Pangilinan J, Reynolds N, Sandor L, Smith ME, Tsang A, Grigoriev IV, Stajich JE, Spatafora JW
Evolution of zygomycete secretomes and the origins of terrestrial fungal ecologies.
iScience. 2022 Aug 19;25(8):104840. doi: 10.1016/j.isci.2022.104840