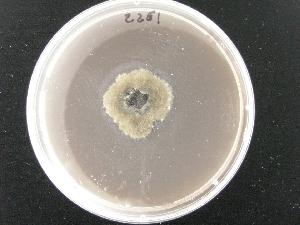 Phialocephala scopiformis 22E1
Originally isolated in eastern Quebec, this conifer needle endophyte produces the potent anti-insectan metabolite rugulosin. Infected trees are more tolerant to spruce budworm, a serious insect pest of forests in northeastern US and eastern Canada. Spruce budworm damage results in profound habitat disturbance and reduces the sustainable wood supply. In recent years, millions of conifer seedlings in New Brunswick have been inoculated with this strain (and others from the Acadian forest) in production nurseries. Studies in nurseries and under field conditions demonstrate that the growth rate of the insect pest is reduced, thus exposing the larvae to increased disease and predation by birds, reducing the damage to the tree. This genomic data will be useful for decades to enable studies of fungal genome evolution, fungal genotyping, and host-endophyte evolutionary genomics.


Genome Reference(s)
Please cite the following publication(s) if you use the data from this genome in your research:
Walker AK, Frasz SL, Seifert KA, Miller JD, Mondo SJ, LaButti K, Lipzen A, Dockter RB, Kennedy MC, Grigoriev IV, Spatafora JW
Full Genome of Phialocephala scopiformis DAOMC 229536, a Fungal Endophyte of Spruce Producing the Potent Anti-Insectan Compound Rugulosin.
Genome Announc. 2016 Feb 25;4(1):. doi: 10.1128/genomeA.01768-15
Frasz, S. L., Walker, A. K., Nsiama, T. K., Adams, G. W., & Miller, J. D. (2014). Distribution of the foliar fungal endophyte Phialocephala scopiformis and its toxin in the crown of a mature white spruce tree as revealed by chemical and qPCR analyses. Canadian Journal of Forest Research 44(9): 1138-1143.

Miller, J. D., Cherid, H., Sumarah, M. W., & Adams, G. W. (2009). Horizontal transmission of the Picea glauca foliar endophyte Phialocephala scopiformis CBS 120377. Fungal Ecology, 2(2): 98-101.

Miller J.D., Mackenzie S., Foto M., Adams G.W., & Findlay J.A. (2002). Needles of white spruce inoculated with rugulosin-producing endophytes contain rugulosin reducing spruce budworm growth rate. Mycological Research 106:471-479.

Miller, J. D., Sumarah, M. W., & Adams, G. W. (2008). Effect of a rugulosin-producing endophyte in Picea glauca on Choristoneura fumiferana. Journal of chemical ecology 34(3): 362-368.

Sumarah M.W., Miller J.D., & Adams G.W. (2005). Measurement of a rugulosin-producing endophyte in white spruce seedlings. Mycologia 97:770-776.