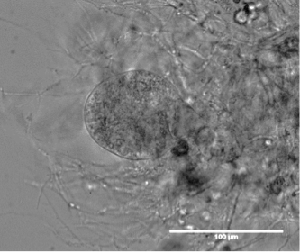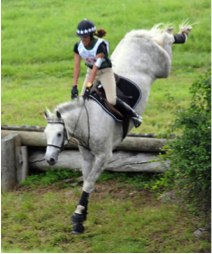 Piromyces sp.finn is one of the few maintained specimens of the phylum Neocallimastigomycota, the earliest diverging branch of free-living fungi. Members of this class are obligate anaerobes, possessing hydrogenosomes, flagellated zoospores and an asexual lifecycle resembling that of their equally primitive cousins, the chytrids. Neocallimastigomycetes, or gut fungi, are efficient degraders of unpretreated lignocellulose and thrive in a number of anaerobic environments including the rumen, hindgut, and feces of ruminant and non-ruminant herbivorous, as well as compost heaps. Within these microbiomes, they play a key role as the primary microbes to colonize plant materials and initiate biomass degradation, ultimately accelerating biomass degradation (Haitjema et al., 2014). This ability is aided, in part, by its ability to form syntrophic relationships with methanogens and other microbes.
The genome of Piromyces sp.finn is of importance to many current and pressing societal needs, and of general interest to science. In particular, the genome will:
Facilitate the discovery of novel biomass degrading enzymes which may be re-engineered and/or heterologously expressed for the production of cellulosic biofuels and other value-added chemicals
Accelerate the identification of the elusive fungal cellulosomal complex which improves biomass degradation with an architecture unlike its bacterial counterpart
Enable -OMICS approaches to rapidly characterize these understudied organisms
Provide new insight into the origin and early evolution of unicellular eukaryotes in general, and more specifically the emergence of fungi, hydrogenosome biochemistry, the evolution of GPCRs and many conserved transcription factors, microbial ecology, and many other facets.
Piromyces sp. finn was isolated from the feces of an award-winning show-jumping horse named Finn, in Concord, MA.
References
Haitjema CH, Solomon KV, Henske JK, Theodorou MK, O'Malley MA. 2014. Anaerobic gut fungi: Advances in isolation, culture, and cellulolytic enzyme discovery for biofuel production. Biotechnol. Bioeng. 111:1471-1482.
Genome Reference(s)
Please cite the following publication(s) if you use the data from this genome in your research:
Haitjema CH, Gilmore SP, Henske JK, Solomon KV, de Groot R, Kuo A, Mondo SJ, Salamov AA, LaButti K, Zhao Z, Chiniquy J, Barry K, Brewer HM, Purvine SO, Wright AT, Hainaut M, Boxma B, van Alen T, Hackstein JHP, Henrissat B, Baker SE, Grigoriev IV, O'Malley MA
A parts list for fungal cellulosomes revealed by comparative genomics.
Nat Microbiol. 2017 May 30;2():17087. doi: 10.1038/nmicrobiol.2017.87
Mondo SJ, Dannebaum RO, Kuo RC, Louie KB, Bewick AJ, LaButti K, Haridas S, Kuo A, Salamov A, Ahrendt SR, Lau R, Bowen BP, Lipzen A, Sullivan W, Andreopoulos BB, Clum A, Lindquist E, Daum C, Northen TR, Kunde-Ramamoorthy G, Schmitz RJ, Gryganskyi A, Culley D, Magnuson J, James TY, O'Malley MA, Stajich JE, Spatafora JW, Visel A, Grigoriev IV
Widespread adenine N6-methylation of active genes in fungi.
Nat Genet. 2017 Jun;49(6):964-968. doi: 10.1038/ng.3859