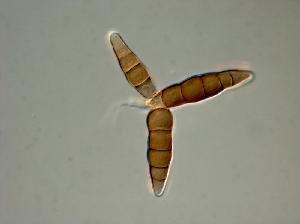 Pleomassaria siparia (Pleomassariaceae) is a saprotrophic ascomycete in birch woodland and scrub in Europe and East Asia. Plant pathologists now monitor the presence of this species in periods of drought or following windbreaks more closely. Pleomassaria siparia seems to extend its range to the North where new disease agents of forest trees are registered increasingly. It has been suggested that the anamorph (Prosthemium betulinum) can endure lower temperatures and is used for hibernation. This fungus grows on broken twigs and branches of birch trees, but its role as a potential pathogen is not studied.
References:

Dennis R. W. G. (1977). British Ascomycetes. J. Cramer, Vaduz.
Ellis M. B., Ellis P. J. (1997). Microfungi on land plants. An identification Handbook. The Richmond Publishing Co. Ltd., England
Genome Reference(s)
Please cite the following publication(s) if you use the data from this genome in your research:
Haridas S, Albert R, Binder M, Bloem J, LaButti K, Salamov A, Andreopoulos B, Baker SE, Barry K, Bills G, Bluhm BH, Cannon C, Castanera R, Culley DE, Daum C, Ezra D, González JB, Henrissat B, Kuo A, Liang C, Lipzen A, Lutzoni F, Magnuson J, Mondo SJ, Nolan M, Ohm RA, Pangilinan J, Park HJ, Ramírez L, Alfaro M, Sun H, Tritt A, Yoshinaga Y, Zwiers LH, Turgeon BG, Goodwin SB, Spatafora JW, Crous PW, Grigoriev IV
101 Dothideomycetes genomes: A test case for predicting lifestyles and emergence of pathogens.
Stud Mycol. 2020 Jun;96():141-153. doi: 10.1016/j.simyco.2020.01.003