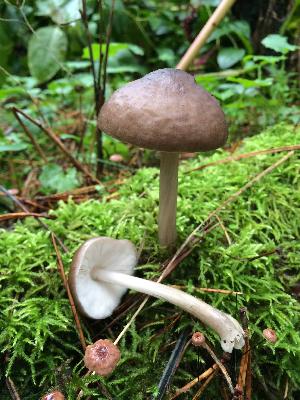 The genome of Pluteus cervinus has been sequenced as part of the 1000 Fungal Genomes Project, which aims to strengthen our understanding of phylogenetic relationships and functional diversity among fungi. The genus Pluteus is a member of the Agaricales, the largest order of mushroom-forming fungi with some 14000 described species. Within the order, Pluteus is closely related to Volvariella, which contains the widely produced edible straw mushroom (Volvariella volvacea). Pluteus cervinus (deer mushroom) is widely distributed in the northern hemisphere, found growing on decaying trunks or wood buried in the soil. The species is believed to be a saprotroph, usually found associated with white-rotted decaying wood. However, unlike Pluteus spp., white rot fungi can usually be easily cultured on microbiological media, suggesting a more specialized nutritional mode for this genus. The genome sequence of Pluteus cervinus might shed light on the nutritional status of species in this genus.
The sequencing project for Pluteus involved the purification of DNA and RNA from field-collected fruiting bodies, which was necessary because species Pluteus are generally considered unculturable, with only one report of successful cultivation so far (Banerjee, Mycologist 8(3): 132-135, 1994). Although such projects have a risk of contamination by bacteria and other inhabitants of fruiting bodies (e.g. insects), in the case of Pluteus cervinus, bacterial contamination remained very low (<1%) in the assembled genome. The successful completion of the genome shows that fruiting body-based genomics is feasible for species that cannot be cultured under laboratory conditions and can provide window into the unculturable microbial diversity of forest ecosystems.
Genome Reference(s)
Please cite the following publication(s) if you use the data from this genome in your research:
Varga T, Krizsán K, Földi C, Dima B, Sánchez-García M, Sánchez-Ramírez S, Szöllősi GJ, Szarkándi JG, Papp V, Albert L, Andreopoulos W, Angelini C, Antonín V, Barry KW, Bougher NL, Buchanan P, Buyck B, Bense V, Catcheside P, Chovatia M, Cooper J, Dämon W, Desjardin D, Finy P, Geml J, Haridas S, Hughes K, Justo A, Karasiński D, Kautmanova I, Kiss B, Kocsubé S, Kotiranta H, LaButti KM, Lechner BE, Liimatainen K, Lipzen A, Lukács Z, Mihaltcheva S, Morgado LN, Niskanen T, Noordeloos ME, Ohm RA, Ortiz-Santana B, Ovrebo C, Rácz N, Riley R, Savchenko A, Shiryaev A, Soop K, Spirin V, Szebenyi C, Tomšovský M, Tulloss RE, Uehling J, Grigoriev IV, Vágvölgyi C, Papp T, Martin FM, Miettinen O, Hibbett DS, Nagy LG
Megaphylogeny resolves global patterns of mushroom evolution.
Nat Ecol Evol. 2019 Apr;3(4):668-678. doi: 10.1038/s41559-019-0834-1