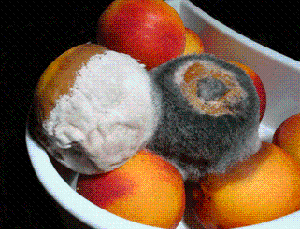 This copy of the genome of Rhizopus oryzae was obtained from the Rhizopus oryzae Database at the Broad Institute.
In order to allow comparative analyses with other fungal genomes sequenced by the Joint Genome Institute, a copy of this genome is incorporated into MycoCosm.
Genome Reference(s)
Please cite the following publication(s) if you use the data from this genome in your research:
Ma LJ, Ibrahim AS, Skory C, Grabherr MG, Burger G, Butler M, Elias M, Idnurm A, Lang BF, Sone T, Abe A, Calvo SE, Corrochano LM, Engels R, Fu J, Hansberg W, Kim JM, Kodira CD, Koehrsen MJ, Liu B, Miranda-Saavedra D, O'Leary S, Ortiz-Castellanos L, Poulter R, Rodriguez-Romero J, Ruiz-Herrera J, Shen YQ, Zeng Q, Galagan J, Birren BW, Cuomo CA, Wickes BL
Genomic analysis of the basal lineage fungus Rhizopus oryzae reveals a whole-genome duplication.
PLoS Genet. 2009 Jul;5(7):e1000549. doi: 10.1371/journal.pgen.1000549