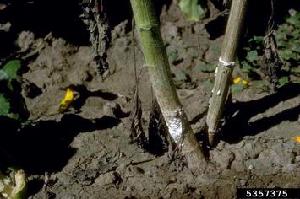 The genome of Sclerotinia sclerotiorum was not sequenced by the JGI, but by the BROAD Institute. A copy of the genome is incorporated into MycoCosm, so it can be used in comparative studies. JGI eukaryotic tools were used to annotate the predicted genes...
Sclerotinia sclerotiorum (Lib.) de Bary is among the world's most successful and omnivorous fungal plant pathogens, with a host range of greater than 400 plant species. Despite decades of dedicated effort, resistant germplasm is still lacking in economically important crops. As an exemplar of soilborne pathogens and necrotrophic pathogenesis, S. sclerotiorum is a model for development of asexual, persistant propagules, somatic compatibility, and sexual sporulation. It is also central to a group of Ascomycetes with poorly known evolutionary relationships.
More information can be found here:
http://www.broadinstitute.org/annotation/genome/sclerotinia_sclerotiorum/MultiHome.html
Genome Reference(s)
Please cite the following publication(s) if you use the data from this genome in your research:
Amselem J, Cuomo CA, van Kan JA, Viaud M, Benito EP, Couloux A, Coutinho PM, de Vries RP, Dyer PS, Fillinger S, Fournier E, Gout L, Hahn M, Kohn L, Lapalu N, Plummer KM, Pradier JM, Quévillon E, Sharon A, Simon A, ten Have A, Tudzynski B, Tudzynski P, Wincker P, Andrew M, Anthouard V, Beever RE, Beffa R, Benoit I, Bouzid O, Brault B, Chen Z, Choquer M, Collémare J, Cotton P, Danchin EG, Da Silva C, Gautier A, Giraud C, Giraud T, Gonzalez C, Grossetete S, Güldener U, Henrissat B, Howlett BJ, Kodira C, Kretschmer M, Lappartient A, Leroch M, Levis C, Mauceli E, Neuvéglise C, Oeser B, Pearson M, Poulain J, Poussereau N, Quesneville H, Rascle C, Schumacher J, Ségurens B, Sexton A, Silva E, Sirven C, Soanes DM, Talbot NJ, Templeton M, Yandava C, Yarden O, Zeng Q, Rollins JA, Lebrun MH, Dickman M
Genomic analysis of the necrotrophic fungal pathogens Sclerotinia sclerotiorum and Botrytis cinerea.
PLoS Genet. 2011 Aug;7(8):e1002230. doi: 10.1371/journal.pgen.1002230