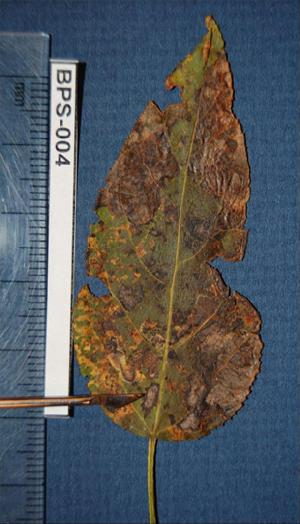 Septoria populicola (sexual stage: M. populicola) is a forest fungal pathogen that most commonly affects poplars of the section Tacamahaca and theirs hybrids. Balsam poplar (Populus balsamifera) and black cottonwood (P. trichocarpa) are native hosts in North America. The symptoms are leaf spots, developing late spring or early summer that can lead to severe defoliation under environmental inductive conditions. S. populicola has been reported to causes cankers on P. balsamifera in exceptional cases. However, unlike its phylogenetically closely related species S. musiva, it is not a threat to fast growing hybrid poplar in plantation.

Availability of genome sequences for S. populicola, its sister species S. musiva, and other members of the genus Mycosphaerella will provide unique opportunities to perform comparative genomics of related Dothideomycetes fungal pathogens. Moreover the available genome sequence of its native host, P. trichocarpa, will prompt the analyses of the host-pathogen interactions. These genomic resources will improve our understanding of the mechanisms involved in fungal pathogenicity and host resistance which in turn will help to better manage forest diseases to ensure reliable supply of renewable wood fibre.
Genome Reference(s)
Please cite the following publication(s) if you use the data from this genome in your research:
Ohm RA, Feau N, Henrissat B, Schoch CL, Horwitz BA, Barry KW, Condon BJ, Copeland AC, Dhillon B, Glaser F, Hesse CN, Kosti I, LaButti K, Lindquist EA, Lucas S, Salamov AA, Bradshaw RE, Ciuffetti L, Hamelin RC, Kema GH, Lawrence C, Scott JA, Spatafora JW, Turgeon BG, de Wit PJ, Zhong S, Goodwin SB, Grigoriev IV
Diverse lifestyles and strategies of plant pathogenesis encoded in the genomes of eighteen Dothideomycetes fungi.
PLoS Pathog. 2012;8(12):e1003037. doi: 10.1371/journal.ppat.1003037
Dhillon B, Feau N, Aerts AL, Beauseigle S, Bernier L, Copeland A, Foster A, Gill N, Henrissat B, Herath P, LaButti KM, Levasseur A, Lindquist EA, Majoor E, Ohm RA, Pangilinan JL, Pribowo A, Saddler JN, Sakalidis ML, de Vries RP, Grigoriev IV, Goodwin SB, Tanguay P, Hamelin RC
Horizontal gene transfer and gene dosage drives adaptation to wood colonization in a tree pathogen.
Proc Natl Acad Sci U S A. 2015 Mar 17;112(11):3451-6. doi: 10.1073/pnas.1424293112