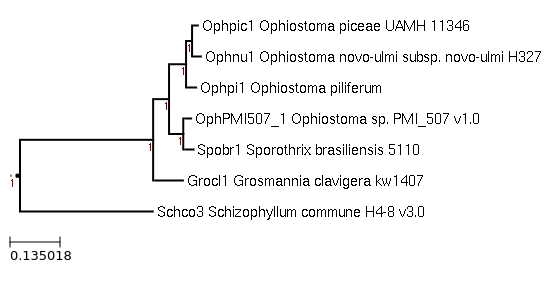 The Sporothrix brasiliensis 5110 genome sequence and gene models were not determined by the Joint Genome Institute (JGI) but were downloaded from Ensembl Fungi on Apr 11, 2020. Please note that this copy of the genome is not maintained by Ensembl and is therefore not automatically updated. In order to allow comparative analyses with other fungal genomes sequenced by the JGI, a copy of this genome is incorporated into MycoCosm. The JGI Annotation Pipeline was used to add the functional annotation to this genome.
Sporothrix brasiliensis is a fungus that is increasingly causing disease in cats and people in Brazil and parts of South America.
Genome Reference(s)
Please cite the following publication(s) if you use the data from this genome in your research:
Teixeira MM, de Almeida LG, Kubitschek-Barreira P, Alves FL, Kioshima ES, Abadio AK, Fernandes L, Derengowski LS, Ferreira KS, Souza RC, Ruiz JC, de Andrade NC, Paes HC, Nicola AM, Albuquerque P, Gerber AL, Martins VP, Peconick LD, Neto AV, Chaucanez CB, Silva PA, Cunha OL, de Oliveira FF, dos Santos TC, Barros AL, Soares MA, de Oliveira LM, Marini MM, Villalobos-Duno H, Cunha MM, de Hoog S, da Silveira JF, Henrissat B, Niño-Vega GA, Cisalpino PS, Mora-Montes HM, Almeida SR, Stajich JE, Lopes-Bezerra LM, Vasconcelos AT, Felipe MS
Comparative genomics of the major fungal agents of human and animal Sporotrichosis: Sporothrix schenckii and Sporothrix brasiliensis.
BMC Genomics. 2014 Oct 29;15():943. doi: 10.1186/1471-2164-15-943