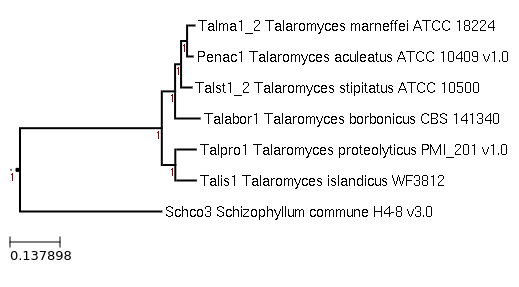 Talaromyces islandicus (Penicillium islandicum) is an anamorph species of the genus Talaromyces which produces luteoskyrin, simatoxin, cyclochlorotine, rugulosin, islanditoxin and chitosanase.
The genome sequence and gene models of Talaromyces islandicus WF3812 were not determined by the Joint Genome Institute (JGI), but were downloaded from Ensembl Fungi on April 11, 2020. Please note that this copy of the genome is not maintained by Ensembl and is therefore not automatically updated. The JGI Annotation Pipeline was used to add additional functional annotation to the author's chromosomes and proteins.
Genome Reference(s)
Please cite the following publication(s) if you use the data from this genome in your research:
Schafhauser T, Wibberg D, Rückert C, Winkler A, Flor L, van Pée KH, Fewer DP, Sivonen K, Jahn L, Ludwig-Müller J, Caradec T, Jacques P, Huijbers MM, van Berkel WJ, Weber T, Wohlleben W, Kalinowski J
Draft genome sequence of Talaromyces islandicus ("Penicillium islandicum") WF-38-12, a neglected mold with significant biotechnological potential.
J Biotechnol. 2015 Oct 10;211():101-2. doi: 10.1016/j.jbiotec.2015.07.004