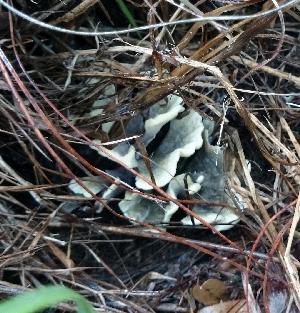 Within the framework of the Mycorrhizal Genomics Initiative (MGI) and 1000 Fungal Genomes project, we are sequencing a phylogenetically and ecologically diverse suite of mycorrhizal fungi, which include the major clades of symbiotic species associating with plants. Analyses of these genomes will provide insights into the diversity of mechanisms for the mycorrhizal symbiosis, including arbuscular, ericoid-, orchid- and ectomycorrhizal associations.
Thelephora species are basidiomycetes and ectomycorrhizal (ECM) fungi. Members of this genus have been found associated with a diversity of host plants and are distributed in many parts of the world, contributing significantly to plant health and ecological stability. However, most Thelephora species rarely fruit and form visible mushrooms that are leathery and coral-like. In contrast, Thelephora ganbajun fruits frequently in Yunnan province, southwest China. Among the Thelephora species in subtropical Asia, Th. ganbajun is among the best known with regard to their distribution (Midwest of Yunnan province), commercial value (as a gourmet mushroom in central Yunnan), and genotypes. For most of its life cycle, the fungus exists as mycelia in the soil associated with pine trees and in the pine tree roots. During the raining season (June-September), fruiting bodies can form. For typical ectomycorrhizal fungi, the symbiotic process occurs as follows. In the rhizosphere, ECM fungi infect root radicles of host plants using hyphal net or spore. By interacting with appropriate receptors on host plant cells, the hyphae grow and form Hartig net. However, the genes involved in the growth and fruiting of Th. ganbajun are completely unknown. The Th. ganbajun genome sequence will help reveal genetic and metabolic pathways involved in its substrate utilization and energy sources, contributing to our understanding of biomass conversion and biodiversity distribution in natural forest ecosystems.
The MGI and 1KFG are large collaborative efforts aiming for master publication(s) describing the evolution of the mycorrhizal symbioses. Researchers who wish to publish analyses using data from unpublished MGI and 1KFG genomes are respectfully required to contact the PIs and JGI to avoid potential conflicts on data use and coordinate other publications with the MGI master paper(s).